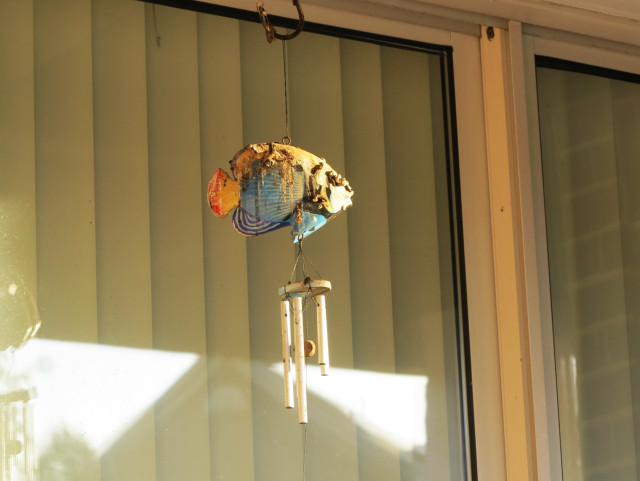 A friend's neighbor's windchime. Birds seem to like it.
The wifey spotted this one while we were walking around. We visited a coworker of mine who has a daughter the same age (plus two months) as ours, seeing if the two would become great friends. They were shy with each other, but perfectly cordial. It was actually pretty fun, but the difference between the two girls were very apparent. Ours likes to stay up late, while theirs likes to go to bed around eight. Ours isn't content when left alone and awake for more than two minutes, theirs is for more than an hour. Theirs has a full head of hair, ours has stuff that would barely qualify for peach fuzz. Anyway, back to my point, we were walking around their nicely cultivated neighborhood when the wife spotted this, and I had to get a picture of it. I like the lighting.
I never did get an answer from the action cam company about the video degradation when using a narrower FOV, so I ended up ordering the camera to see for myself. I looked on eBay for it, and it's mostly selling for close to its MSRP, so if it doesn't work out, I can recoup most of my money back. One feature that would make my life incredibly easy is its "tagging" feature, where it's not exactly recording, but when you hit the "action" button, it auto-saves the last (up to) five minutes of footage plus the next (up to) ten minutes of footage. I'm curious as to how reliable this is, and if it can be interrupted (I don't need subsequent footage to the traffic event I want to capture). I ordered it Tuesday, expecting it to arrive Friday (yesterday). That didn't happen. In fact, they didn't ship it in the first place (I know this, because I paid extra for UPS shipping rather than their free USPS shipping, and the tracking number associated with my order specified it was never scanned). After being ignored when I asked them my tech question, the delay in shipping compounded my frustration, only making me feel like more of an idiot for trusting them to do what companies typically do (that is, sell you their product). So I crafted a professional email generalizing my mostly horrible experience with the company from day one to that day. Three hours later, 7:25 PM, their time, my order was finally scanned in by UPS, and I received an email response saying as much. With their apology came an offer for a free accessory; I already ordered every accessory that I could possibly use when I ordered the camera. Luck's smile was shining on me I guess, because exactly yesterday the company sent out an email announcing the arrival of the much awaited waterproof case for the camera, the most expensive accessory for it weighing in at $50, so of course I picked that one. We'll see if I actually get it.
-20:19, 18MAY2013-
---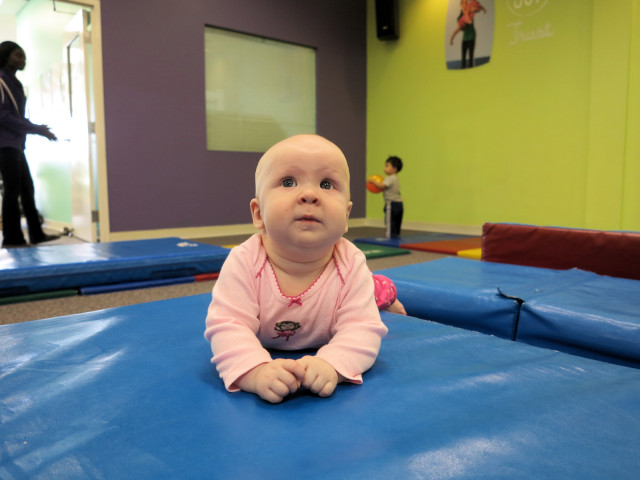 Peanut says, "Happy Mother's Day!"
Just kidding. She can't talk yet... but she can type! Actually, to make it apples to apples, she can talk, and she types about as good as she talks. I told her to type something to her mom for Mother's Day for the world to see, and this is what she says: " cZZZZZZZZZZZZZZZZZZZZZZZZZZZZZZZZZZZZZZ!ZZZZZZZZZZZZZZZZZZZza~q1 333333 Q BHHHHHHHHH,LPM q2aa ". At one point, she somehow managed to delete everything she'd typed (I guess she didn't like how it looked) and typed what you see here instead. I figured she was done typing when she managed to pick the keyboard up and manipulate it enough to put the corner of it in her mouth.
She has a new thing that she's discovered today, that she clamps her gums together and breathes hard through her nose, in and out. She looks like she's making a huge smile from the nose down, but from the nose up she looks like she's very angry. It's extremely cute, in a strange way... and she's doing it constantly. She managed to get us to imitate her with something that neither of us have done before, and she gets a kick out of it.
I gotta say we probably have the most perfect baby any parent could ask for. She is even tempered, has a great sense of humor, she eats with purpose, has slept through the night for many months in a row (though often requiring a meal between two and four in the morning, then back to sleep), her butt always gives us an audible alarm to let us know when she's pooped, and generally loves being a part of the world. When outside and the wind blows in her face, she gasps and smiles, and tries to taste the air with her eyes closed, as her wisps of light colored hair fly backwards (she has about ten strands that are long enough to actually be called hair). She wakes up in a really good mood (unless she's hungry) and greets us both with the biggest smile possible for a face so small when we come to pick her up.
For Mother's Day I went to Costco and bought us some crab legs. Then we went to the Mother's Day party at Little Gym (infants and toddlers only), where Peanut seemed anxious to play with the other kids, but her baby muscles weren't quite developed enough to run around like they were, but it wasn't for lack of trying. I swear she's going to be crawling very soon... she's getting significantly closer every week. After that, we went to the grocery store and picked up fresh corn, potatoes, and spinach, then came home and cooked a meal fit for a king (crab) (cannibal). All said and done, I can say that for an absolute fact that this is the best Mother's Day my wife has ever had. She's been doing everything right, and deserves more than I've given her today. I am grateful to have her as the mother to our child; I doubt anyone else would be more loving or selfless.
Earlier this week I picked up a new action cam (Contour+ 2) to use as a dash cam. It's the most expensive thing I've bought in over a year, weighing in at $400 (but in perspective, that's about 22% of our monthly rent. Yay, DC area). I used it for two days, and was impressed at the video quality it produced. Unfortunately, the camera was missing about a dozen other things that my current camera has, most importantly the ability to charge it while recording, and 2nd most importantly the ability to delete individual clips off of the camera, without hooking it up to a PC (or removing the memory card and putting that into a card reading device of some sort). The third disappointment was that the audio was actually worse than my current cam, while picking up the same 'plinking' sounds as the camera holds steady on the mount on a bumpy road. I can use less than one hand to count how many times I've returned something for a refund, and this camera took up one more finger. I really wanted to like it, but in the end, I knew I wasn't going to be happy with it and I would hate myself for spending so much money on something I didn't like (much like my iPod from 2006... but at least that has 60GB of storage, which is much more than MP3 players today have, and it can be used as an external hard drive). So, I'm still on the lookout for something better. I've already eliminated the Hero 3 Black for other issues... Next up on the list is the Drift HD Ghost, which looks like it would be perfect, if only I could get a technical answer from their staff from a question I asked over a month ago regarding the video degradation when using a narrower field of view, and a sample of nighttime footage.
-20:58, 12MAY2013-
---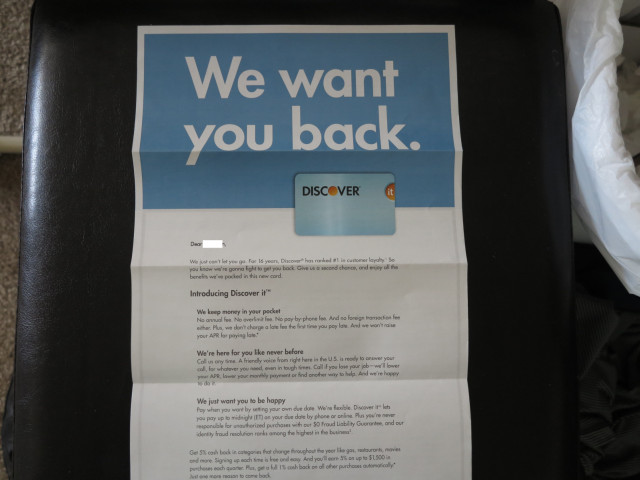 Got this in the mail, Monday.
About 12 years ago, I was getting two - three calls from telemarketers every day. At least one out of five of the calls was from Discover, offering me a credit card. I asked them a couple of times to stop calling me, but they persisted (I probably wasn't emphatic enough). Finally, I said "Sure, give me a credit card." in order to stop the calls. I got the card and never activated it. One call at least every two days from Discover turned into one call every six months asking if I wanted to activate it. I politely declined, saying that I'm saving it for an emergency (which was true, actually... I kept that card at my apartment and if my wallet ever got stolen, I had the backup waiting for me at home, and if someone stole it from my home, then they couldn't use it because I'd never activated it). They sent me new cards when the old ones expired. I called them to change my address each time I moved. Discover showed up on my credit report as a solid green rectangle, month after month after month, adding to my score. In January this year, I got a letter from them telling me that my account was deactivated. It very succinctly said that it was canceled due to inactivity, and it would never be reinstated. Had they given me an ultimatum to activate or cancel, I would have activated it. Very briefly I felt like I was caught doing something that I wasn't supposed to do. Less than three days later, I received a credit card offer in the mail... from Discover. Two weeks later, another one. A month later, another one. Another month later, same story. This month, I got this letter, and thought it was too ironic to not talk about publicly. They don't call because I don't have a landline any more. /End story.
Peanut is developing at an incredible rate, physically and socially. Just this week she has learned she can stomp in the bath water and create a splash, when held upright by her armpits. Her mixed look of wonder and concentration as she stomps makes me want to feel what it's like to be doing this for the first time. Getting her to giggle uncontrollably fills us with a joy that I don't think could be felt doing anything else. If she's laughing at something, she laughs three times harder if one of us is looking at her. With the stomping in the tub, I think that's helped her to understand better how to control her feet. Holding her so she can kick things (like the dangling animals above her swing) gets her incredibly excited, and she makes the best use out of every second she has a chance to kick that penguin in the face with both feet. She regularly rolls over with one attempt. She can lift her lower body completely off the ground by straightening her legs, and she can lift her entire torso off the ground by straightening her arms. It won't be long before she figures out how to be mobile with more control than one half of her body at a time, which causes her to move in circles.
-22:11, 04MAY2013-
---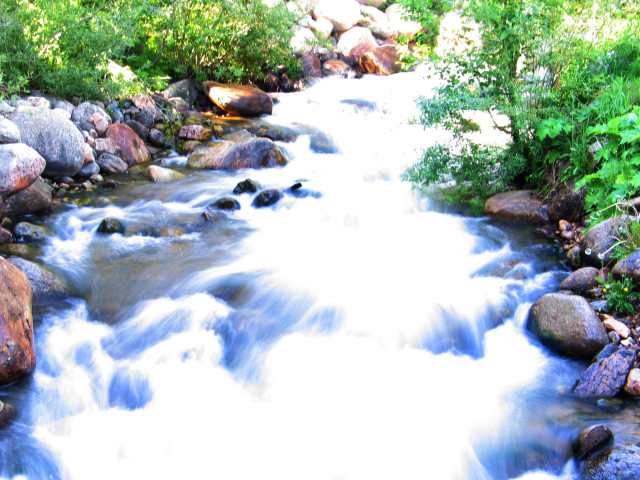 A stream in Beaver Creek, CO. Captured June, 2004.
This picture is an example of another learning experience of mine. My goal was to have the water look "cool", by using a longer than suggested shutter speed to capture it. Unfortunately, this caused my pictures to become super over-exposed; the result you see here is after a gamma reduction (the original). Much much later, I learned that my camera had what's called a neutral density filter (menu selectable), which is specifically meant to block all light equally, to allow for longer shutter speeds without reducing image fidelity. Too bad I didn't know about it here, eh?
-22:17, 27APR2013-
---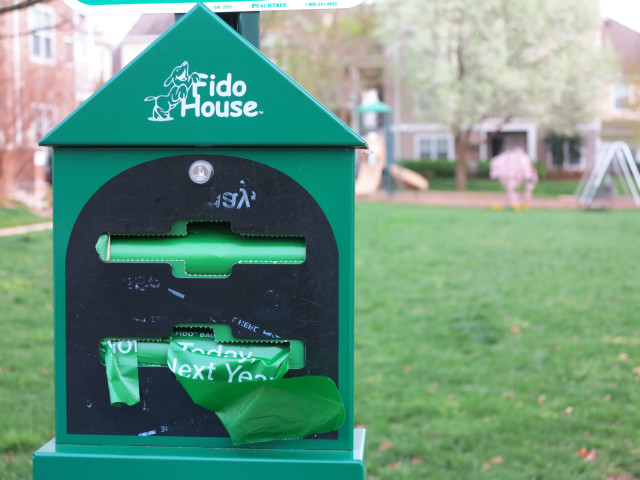 A poop bag dispenser, in our apartment complex. Photo taken Monday.
Monday we went on a walk with the stroller, and I brought my camera like I always do. I don't know why, but I took a picture of this to "show off" my camera's depth of field capabilities (meaning the blurriness in out of focus objects). I guess there is room to talk about the object... it's for dog owners to pick up their dog's droppings. Our last apartment had these too, but the tenants seemed to refuse to use them, and instead allowed their dogs to leave piles everywhere. The tenants at the new place seem to be pretty meticulous about it, and we're incredibly grateful for it (as is our carpet).
Wednesday night wasn't so fun. I was relaxing in the recliner/sofa, half napping, with Peanut sleeping on my chest. After an hour, she started coughing, with choking sounds... I sat her upright and she vomited everything in her stomach. She'd never vomited like that before, but it's typical for typical babies, so we cleaned her up and changed her clothes (and I changed my clothes). Not a half hour later, my wife had to throw up as well. Then my daughter threw up again. Then my wife. Then my daughter. Then my wife. Then my daughter. It was heartbreaking seeing her cry after gagging over and over again, not knowing what or why it was happening... We went to the ER and they looked over Peanut. They guessed it was a stomach bug, gave her some anti-nausea medicine, and she was nursing a half an hour later, and kept everything down. Around 2AM we were finally released. In our bed, Peanut fussed and cried until nearly seven o'clock. Finally I laid her on her back on the center of my pillow and she instantly fell asleep, with her arms slowly relaxing to her sides. We all slept until noon. I went into work on Friday, but then around lunch I started feeling nauseated. "No biggie. All mental.", I thought to myself. I took the rest of the day off, just in case. Long story short, between 3 PM Friday and 3 PM Saturday (hey, that's today), I slept about 16 hours, and ate nothing. Other than a fever (100.4), I had none of the effects of the bug that my wife and daughter had. Peanut is almost back to normal, but we're still being careful about how much to feed her. Her stomach is still jittery (she threw up once last night and once this afternoon), but she's otherwise been the best baby any parent could expect considering how miserable she feels. We've gone through two weeks worth of diapers and two loads of burp cloths. Despite it all, she's still calm and smiling. I can't wait until we can bounce her around, making her crack up and squeal like before.
-21:38, 20APR2013-
---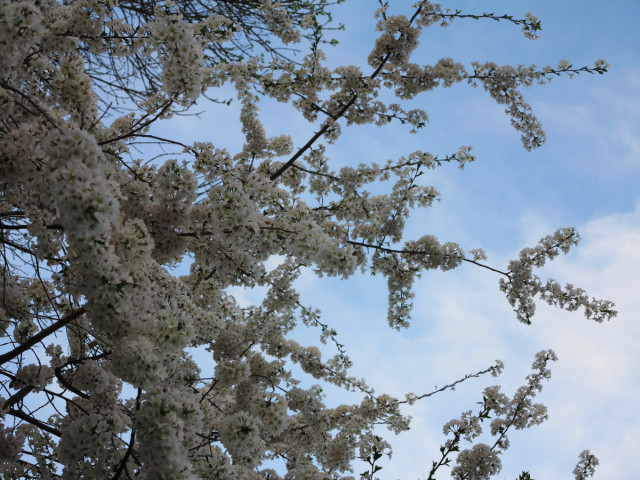 Spring finally decided to show up. Photo taken Wednesday.
We had our family photos taken today at JC Penny. The experience was pretty disappointing. The deal was that you get 32 pictures taken of you in various configurations, and then you pick a package that prints out 14, 16, or 18 sheets, narrowing your selection of printed pictures to about 8 or 9, depending on how many copies of X picture you'd want taking up more of your available sheets. Of course, you can buy more sheets a la carte if you so want. Our photographer seemed intent on taking bad pictures for half of the shots. Either that, or her reaction was very slow... With the camera pointed at her, Peanut would smile, look away, and start getting upset and *FLASH* there's 1/32 that we can't use. The price we paid was worth it in the end, but the whole thing seemed rushed and disorganized. Also there was a basket that Peanut was to sit in (with pillows) that was incredibly unstable. If she were to lift her head and drop it down, she would have tumbled off the pedestal... I held the basket down. If they continue to use that same thing, some unlucky kid is going to have very rich parents one day.
I posted a review for my Canon G1X on Canon's website. They rejected it because it didn't fit their "guidelines". After looking over their "guidelines" I failed to see where I violated anything in them. I posted a mostly positive, but critical review that was meant to help future shoppers. Overall I gave the camera 4/5 stars - the image results are incredible, but the ease of use is poor. Because I've been censored, I might draw up a review on here (and maybe even make it more critical). I've been wanting to talk about my G5, G11, and G1X and do a serious comparison between them. The G5 still has some options that I wish my newer cameras had...
-19:10, 13APR2013-
---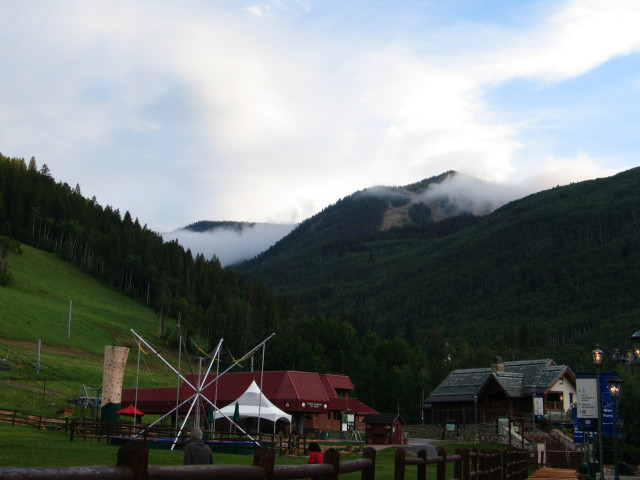 Beaver Creek, CO. June, 2004
So this was an interesting town... lots of wealth, out in the middle of nowhere. The winding road that led up to this "neighborhood" was extremely well made (by this I mean clear paint, no bumps except for the concrete seams), clean, and decorated. It's a resort for millionaires and people that win contests like Wheel of Fortune, and I got to go for free (to work). I only had a short time to take pictures, so I tried to take as many as I could, because everything about the town looked straight out of a movie. The grounds were meticulously cultivated, the decor expensive-looking, the landscape incredible, and the people were mostly beautiful (men and women; I don't discriminate).
Peanut is back to being friends with Tommy the Turtle again. Whatever he did to set her off, she's forgiven him enough to punch and swat at him repeatedly while laughing, as he hangs above her head in her Pack & Play.
I've been working on my next dashcam video for over three months. Before fatherhood, it took me about three weeks to make one, and that's without really focusing on it but for a couple of days. Now, I have about 1.5 hours of free time that I can spend on it during a weekday, and I use that time doing less brain-intensive things. So yeah, I expected it to take a while, but I had no idea it would be this long... and I'm only about 70% done.
-21:15, 06APR2013-
---

Peanut's ex best friend, looking lonely this morning.
We named him Tommy, but our daughter only knew him as the "eternally smiling green thing that would dance fast and stop suddenly, making me giggle uncontrollably". Today, he's barely worth looking at and pushing aside. She's interested in more complicated, better looking toys that actually talk back to her. More mature toys, if you will.
We had a blizzard earlier in the week and with it were all sorts of things to take pictures of... but the act of going outside right after getting home from work to take pictures seemed irresponsible while my wife needed just a little relief from her all-day-long babysitting job. Of course, there was the fact that it was very cold and windy outside, and I didn't want to go back out there. As a result, this is the first winter that I haven't posted any snow pics on this website, and that's because I took no pictures of the snow.
-20:35, 30MAR2013-
---
You know what? I've been thinking that it's pretty silly to put my time/date stamp at the end of my posts the way that I do. This is how I will post them from now on... I may even go back over older posts and consistent-tize it. What do you think? Oh, that's right, I haven't been adding comment links to my posts like I used to. I guess I'll never know what you think. I blame spambots.
-22:25; 25MAR2013-
---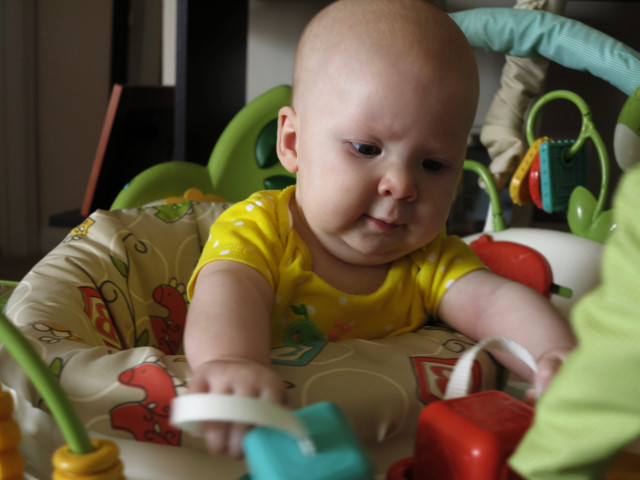 Peanut in her new bouncy-jump-sit-play-music thing, this morning.
She has such an intense look of concentration sometimes, and has a larger attention span than I do... there's no doubt she's going to be smarter than me by the time she's ten, if not sooner. For now, she'll focus on a mechanical toy, get close to it and get a better look to try and understand how it works, slowly, steadily pulling herself towards it (or it towards her) until finally... she can put her mouth on it. (Kind of meant to be a joke. Sure, she's the smartest baby in the world, but she's still a baby.) This morning, in her swing, she was humming incoherently. Somehow I figured out that she was humming to the music that it plays. Her tone and pitch would change from one song to the next... she wasn't mimicking the notes so much as she seemed to be supplementing what was playing. She's constantly curious about what's going on around her, and doesn't seem to be afraid of anything (which can be a very very good thing and a very very bad thing at the same time). She only cries when she's hungry or tired. Her favorite toy is a multi-colored plastic chain (she has more than one of these, but there is a specific one that she prefers). I think she's figured out that her friend in the bathroom mirror is actually herself. Between this update and the next update, she will turn four months old. According to the "What you can expect, month by month" book, she's passed all five month old milestones, and most of the "possible, but unlikely" milestones. One of the ones she hasn't passed is to object when you take a toy away, but I think her super-cool temperament prevents her from objecting more than her age/development ratio. -18:45, 23MAR2013
---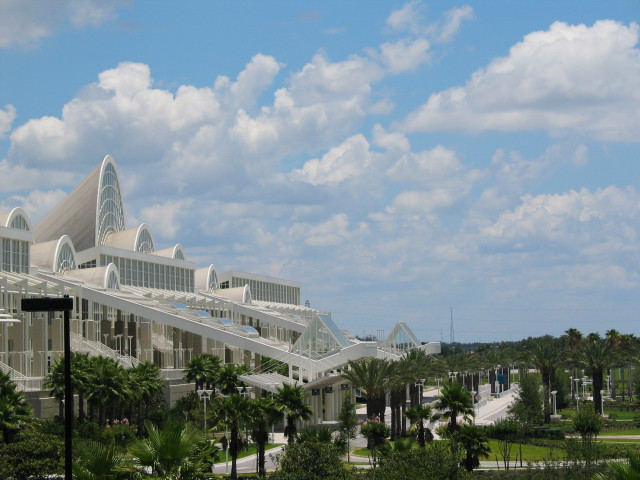 Convention center in Orlando, FL. Taken from the elevated walkway leading to it, May 2004.
It was during this trip that I took some of my best pictures for a long time running. I still use a picture of this convention center, during a sunset, after a rain as my desktop background. The "neighborhood" was very beautiful and meticulously cultivated back in 2004. I'm a little afraid to see what it looks like now, what with ten years of merciless sunlight beating down on the architecture, combined with the general convention center industry imploding on itself in 2008 and on. In this image, even though the lens was zoomed in all the way, the shutter speed my camera used was 1/1000th of a second at an ISO of 50. "What does that mean to me?", most people would ask. I'll tell you. It means it was damn bright out there. A typical outdoor photo at that ISO with that camera is 1/500th of a second, and that's with the lens unzoomed.
Yesterday we got a sitter and went out on a date for sushi. I had a new haircut that I used my lunch hour to get that day, so when the babysitter called saying that Peanut was inconsolable and wouldn't take a bottle, I was unable to calm her down enough to take the bottle when we came home early. She fussed and cried like I haven't seen her fuss and cry in months... She didn't recognize me. I think the last haircut I got was in December, so it was a pretty big difference in appearance for her to handle. This morning she was still acting with me like she does with strangers... sociable, but not "close" (not wanting to touch my face, or make eye contact for long, or laugh at the things she normally laughs at). I don't know what it was, but on the changing table she realized that I was her missing dad, and in the space of one second her personality did a 180. She waved at me, talking and laughing for nearly five minutes straight (with me egging her on, of course). I'm going to have to get haircuts more frequently, so I mostly look the same before/after, so I don't scare her like that again. -17:32, 16MAR2013
---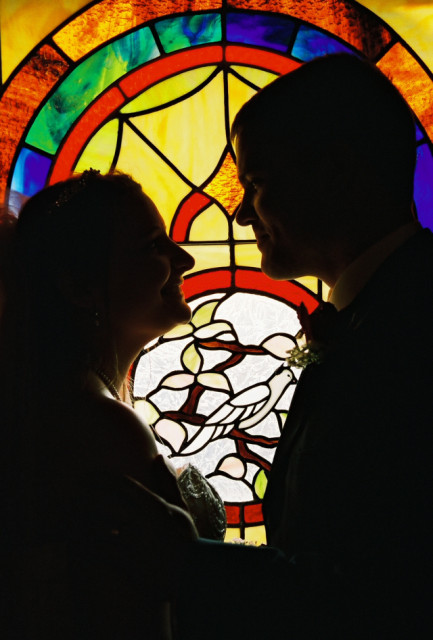 This photo obviously not taken by me, March 10, 2007
Well, obvious if you don't know who these people are. They are me and my wife on our wedding day. Twelve years we've been together, six now in marriage. We have a 3 month old infant, who has been the best baby in the world, but she still limits our ability to go and do things. So, for our sixth anniversary, I bought beef wellington from a local butcher (it's her favorite dish, but it's very expensive and hard to find a place that serves it), a bottle of champagne that I will be 'forced' to drink most of, and we'll be spending our anniversary at home. She bought some cake mix, so we'll also be having cake for dessert. We didn't exchange gifts or cards this time, so the least I could do for my loverly wife is talk about her on my website, which is something I've very rarely done.
So, thank you my dear, for sticking it out with me for six plus one years, away from your friends and family. Thank you for loving me for who I am, and for letting me be myself. Thank you for baking and birthing Peanut, who on her own has added a previously unimaginable layer to my life that feels surprisingly natural (so far). I owe you everything, yet you ask for nothing in return. Happy Anniversary, my wife. I love you!!! -14:47, 10MAR2013
---