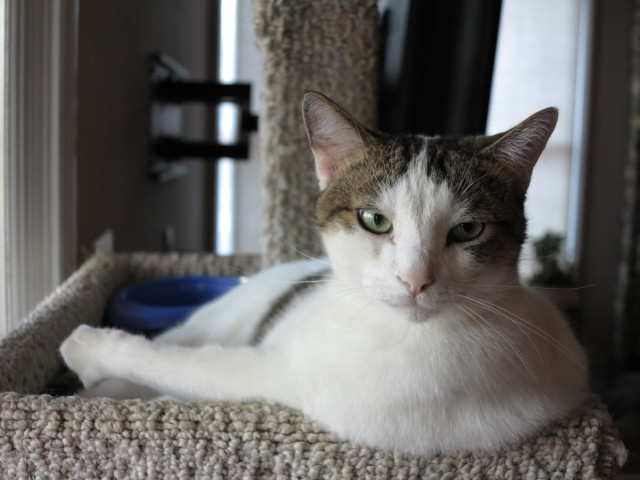 My aunt/uncle in-law's cat, picture taken Thanksgiving week.
So I haven't been using my camera to capture things I normally would post on this page, but this is one of the few exceptions to that rule. Want to see a super-high-resolution picture of a cat face? Click here.
I'm a horrible website editor recently. I typically update every week, and rarely take two weeks to update... This is the first time in three and a half years I haven't updated in three weeks, and that's right after it took me two weeks to update, right after it took me two weeks to update. That's absolutely ridiculous and unacceptable... I wouldn't stand for it if I were you.
Things at work and at home have picked up at an incredible pace. From the time I wake up until about 9:00 at night, the business (busy-ness) is constant, and the last thing I want to do by then is something that requires brainpower, like updating this website.
In a fit of productivity, earlier this week I decided to clean the dust from inside my computer. The outside was bad enough, but the inside was grotesque. I actually pulled off the cooler from my CPU (usually, I stick the mini-vacuum between the fan blades and move it around) and brushed out the black dust that was totally caked in the heat sink fins. In my rush to put the cooler back on, I broke one expandable peg on one of the quarter-turn locking levers. A insignificantly sized piece of plastic, barely larger than a pencil tip effectively deadlined my $1400 Franken-monster. Best Buy would not have a replacement. CompUSA no longer exists. Computer repair shops have mostly disappeared off the face of this earth. Luckily there is one final brick and mortar bastion for those of us that not only like PCs, but also like building our own. That place is Micro Center... a store that manages to keep itself packed with customers despite the ever constant decline of useful geeks in the general US population, and the ever increasing popularity of ordering things from NewEgg. Anyway I bought a new cooler (a little fancier than the stock one I was using from before), and installed it with less fuss than I anticipated. It involved installing a backplate on the back of my motherboard, and installing bolts in the previous mounting points. Somehow I managed to do it right the first time, and my computer has magically stopped locking up while I try to do silly things like play games or watch YouTube videos.
-20:43, 07DEC2013-
---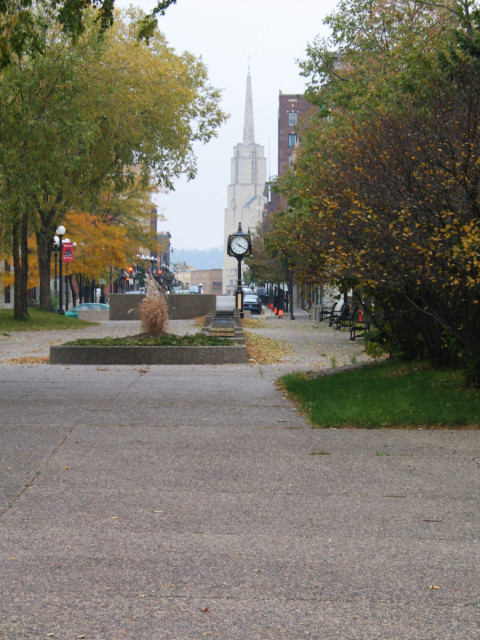 A clock in LaCrosse, Wisconsin. October, 2004.
I looked through my "Pictures of places I've been" section, and am flabbergasted that I did not post at all about this neat little town. There will be more pictures of this place in coming weeks, as it was very picturesque, and the first time I actually walked around a town with the sole intent of taking pictures. The place was interesting... it seemed to be a well behaved college town. We ate at a few restaurants in the downtown area, and the food was surprisingly cheap. At a sit-down restaurant, I got a fancy sandwich with fries and a drink for about $6 (a meal like this would have cost about $16 in downtown DC, $12 in the outskirts at that time (to convert it to today's costs you can add 25% to each).
I expect to post a photo once again between now and the coming Saturday, to make up for my lack of photo last weekend (again).
-14:09, 16NOV2013-
---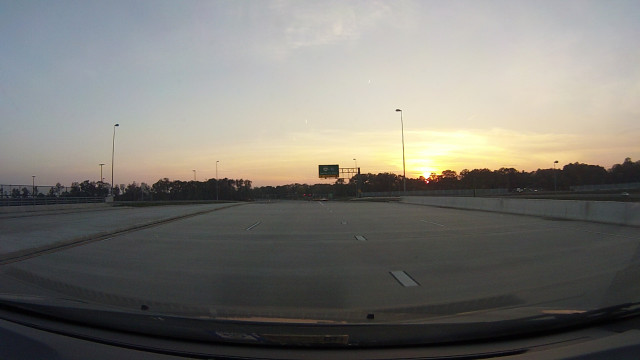 A sunset captured with my dash cam, early last week.
I talked about my Drift Ghost HD last week in that it took the picture of the Maxima featured (that Maxima is still in its spot on the street... I wonder if the owner has gone out of town). Here I'm going to talk about it again... In this case, this week's image is a screencapture from video it recorded. Additionally, the Drift Ghost HD decided to... how do you say... give up the ghost on Thursday after being on and recording for two hours straight. Now I await a replacement camera once I send this one in.
I'm typing this in a trial edition of Coffee Cup's HTML Editor. So far, it's slick, intuitive, and has live Spell Check. I think this is the one. The only thing I don't like is the "Save" button isn't a Save button. You click it, and it opens up a drop-down dialog allowing me to Save, Save As, and Save All (if I'm editing multiple pages at once). I'm sure this can be customized, but even if it isn't, it's not enough to keep me from using this.
My sister Rebecca came up for Friday. It was a pretty action-packed day... probably one of the busiest days off I've ever taken. It was great having her here. This was also one big reason why I didn't muster up the energy to update on Saturday, as I had to take her back to the land from whence she came, a five hour drive in both directions.
I'm pretty sure in previous posts, I predicted that Obamacare would be a disaster. The Healthcare.gov debacle is only the beginning.
-15:48, 03NOV2013-
---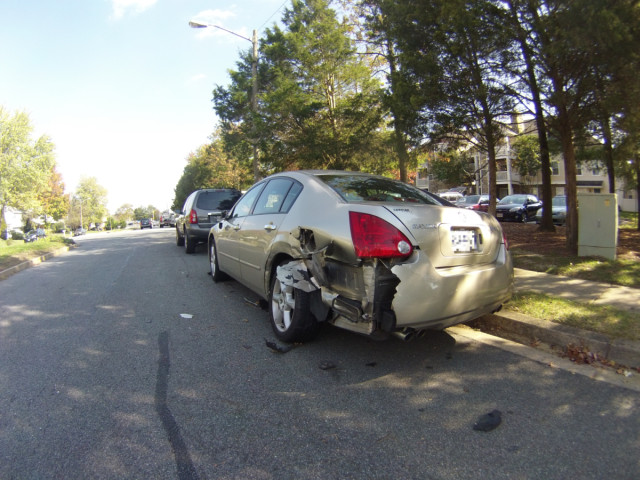 Outside our apartment complex. This morning.
So, this time it actually worked out that I missed this Saturday for updating. This morning, when I went to take my Prelude for its weekly drive, I saw this poor car. Typically, this car and the one in front of it are blocking my view as I make a right onto the road. Moving traffic rarely adheres to the 25 MPH speed limit, so I've pulled out a couple of times, not seeing anyone coming, only to swerve into the curb to avoid getting hit by some a-hole doing 45. My Prelude is parked on the street because we're only allowed two spots, and they're filled up with our newer, nicer (but not as fun) cars. I park it in a less obtrusive area, even though the spot where this Maxima is would be much more convenient. I guess my decision had an unexpected payoff in that my much darker car was safely tucked somewhere else last night. I should mention that this photo was taken with my dash cam (Drift Ghost HD) in its picture taking mode. (Usually when you see an image from it, it's a screencapture from recorded video.) (Its "photo" mode is actually pretty good in that it takes relatively detailed 11 megapixel images.)
So my trial period for HTML Kit has expired, and I never did find a way to enable live spell check, so I guess I won't be buying it. Typing on Komodo again... it's getting super annoying that the text is lagging the way it is. Also, something else I forgot this software did, was if the letters you type is too far ahead of what's printed on the screen, it will lose focus, meaning if you have another application open, you're suddenly typing in that other application. If you only have Komodo open, it will 'blank out' for a split second and drop some of your letters. Free software...
-17:12, 27OCT2013-
---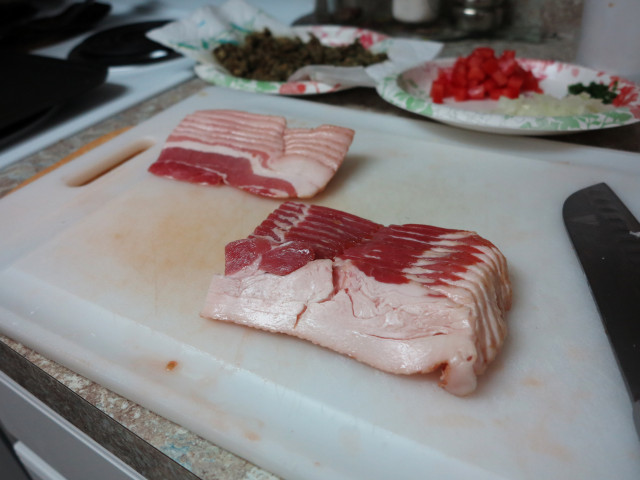 This is a slab of bacon, cut in half.
So yesterday the wifey decided to cook breakfast, and bacon was to be our breakfast meat. The pile on the left is the portion of bacon that showed through the back of the package. The pile on the right is the portion that was uncovered after opening the package. That is one dirty trick, Hormel.
I'm typing this on a trial version of HTML-Kit Tools. So far, there's no lag and there are some features I like. I can hover over the text of an image location, and it tool-tips a preview of the image. If you highlight text, it will highlight that exact text in other places where it appears. As an example, if you highlighted "highlight", every instance of the word "highlight" would be highlighted. Unfortunately, there doesn't appear to be a live spell check. I can click "Spell Check" and it brings me to the top of the page and says Crawdaddy isn't a word, and I'd have to add everything at the top of the page to the dictionary to get to these paragraphs below in a timely manner. On the upside, once you click "Spell Check" and cancel out of it, all misspelled words are underlined the way misspelled words are typically underlined. There's gotta be a way to enable a live spell check... older versions of this software supported it apparently. I just have to dig, and if I find conclusively that it can be enabled, I'll probably be buying this one.
Yes, I missed Phaturday again... but at least it was only one day late this time.
-11:54, 20OCT2013-
---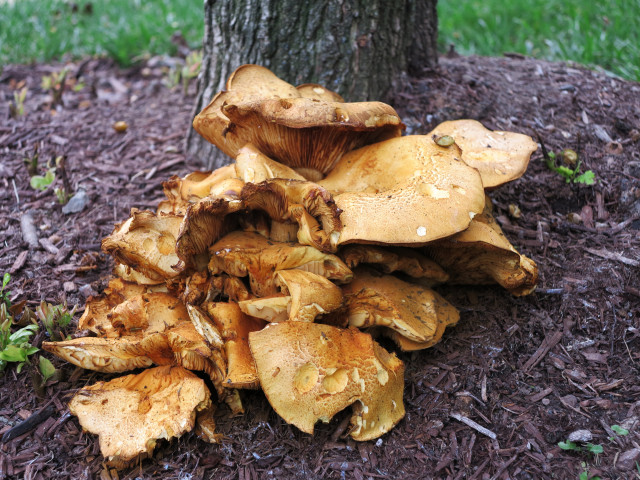 A massive mushroom that spawned at the base of a tree in our apartment complex.
I nearly forgot about the 2nd update this week... but I remembered not a moment too soon. I haven't been taking a lot of outside-area pictures lately, so it's good that I made it a point to take a picture of this mushroom two days ago. I planned to use this picture for Saturday's update, but that was before I remembered that I owed you another update before Saturday. By the way, I left this image at full resolution just because I don't mind if it gets stolen. To view it, it might take you a while... not because your internet is slow, but because my host is slow.
Back when I first upgraded to Windows 7 with my new put-together-myself PC, I decided to try Komodo instead of what I'd been using, which was 1st Page 2000 to edit this website. At the time, I decided that I didn't like it, and would never use it again. That was a big lie (the 2nd half of that statement). I am still using it today, and I still don't like it. It doesn't do live spell check, and it is slow when lots of text is on the screen (1st Page 2000 has this same issue, but much worse with Windows 7). After nearly 15 years of HTML editing with free HTML editors, I am in a position where I think I'm finally willing to actually pay for an HTML editor. It doesn't need to be fancy. I don't need gobloads of templates (or any templates, really). I really just need everything the free editors provide, but with live spellcheck and the ability to type without seeing my text lag behind my keystrokes when a page gets too 'text intense'. What's ironic is this problem didn't even rear its head until I upgraded my video card five years ago, and persisted as I've upgraded it again.
-21:52, 17OCT2013-
---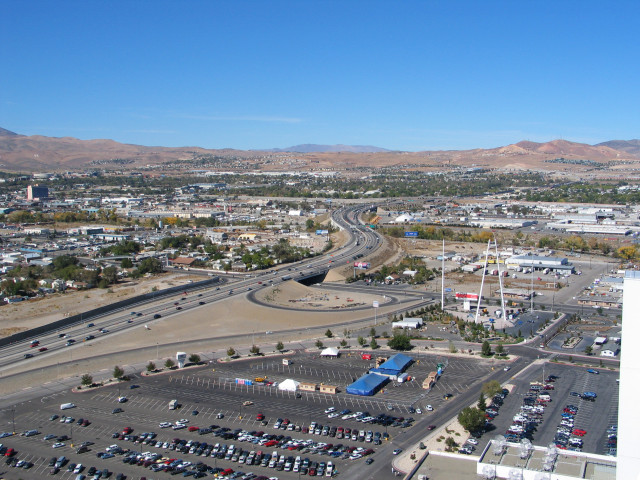 Reno, NV, October 2004
How does something so easy become so tough? Sorry I missed another week. Expect an extra post before the next Phaturday.
Cousin Veronica is in town so it's sort of appropriate that a picture of Reno happens to be my next one. This one was taken from the roof of the Hilton hotel; the only tall building outside of downtown Reno. I stayed there two or three times. It was also the last place I gambled, because it was the first time I lost money gambling. ($5)
-16:26, 13OCT2013-
---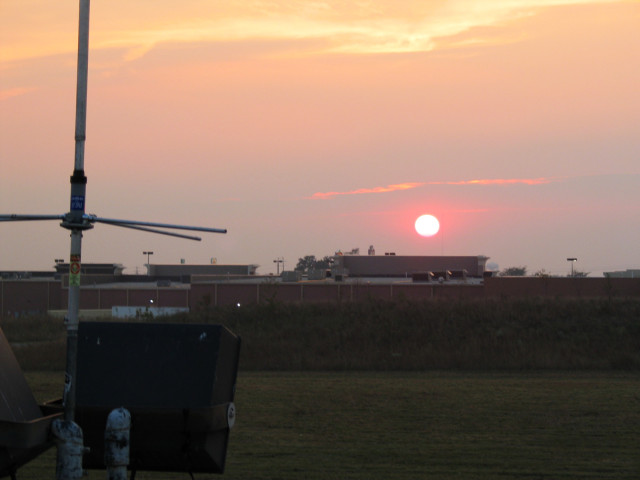 West Chester, Ohio, September 2004
It's a sunset that I forgot to include in my sunsets page. Wish I would have had more to choose from, but for some reason I only took this sole picture.
[POLITICS] So the Republicans in the Senate voted to remove the House's "Defund Obamacare" amendment from the continuing resolution that would prevent a government shutdown because Congress hasn't figured out how to pass a damn budget in five years or something. I wasn't able to find a good answer as to what advantage defunding Obamacare would bring to the nation. Now the resolution is back in the House and Republicans are trying to delay the rest of the implementation of Obamacare by a year with yet another amendment. I'm assuming the strategy is to delay it so that if Republicans get a larger majority after the mid-terms, it can be repealed altogether. It might actually pass the Senate because the implementation is running behind schedule anyway. I don't think Republicans are going to get any significant gains. Their actions of late have not done much to inspire me; their message about Obamacare is as muddy as a message can be. By the time it gets filtered through all of the activists, Obamacare is nothing less than a Soviet-style implementation of public health care that must be stopped. From the Democrats side, Republicans are trying to destroy America with their tactics. Neither side seems to understand that Obamacare has nothing to do with health care, yet everything to do with health insurance. I hate politics. [/POLITICS]
-16:22, 29SEP2013-
---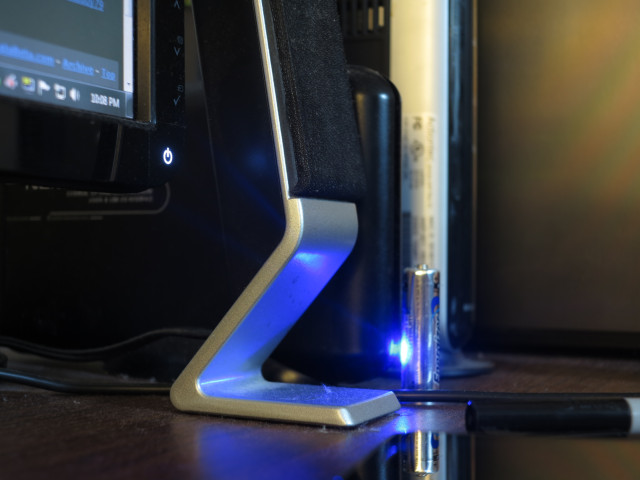 My computer desk, ten minutes ago.
I tell you what, you don't know how dusty your desk is until you take a long exposure low ISO macro shot of it. I did this one without much thought or preparation, because I feel like I've been going into my archive too much instead of producing (and what I produce is pure gold, as seen above). I thought the light from my external hard drive would illuminate my computer speaker pretty neatly, and the camera captured it better than I expected. To the naked eye, there is very little blue illumination on the speaker stand, but when a camera stares at it for four seconds or so, the blue (or any illumination) becomes far more pronounced. That's not to say that the light isn't bright... I placed that dead battery in front of it to block it from my eyes. Check out the full resolution crop of the speaker stand: Clicky. Exciting, no?
-22:18, 21SEP2013-
---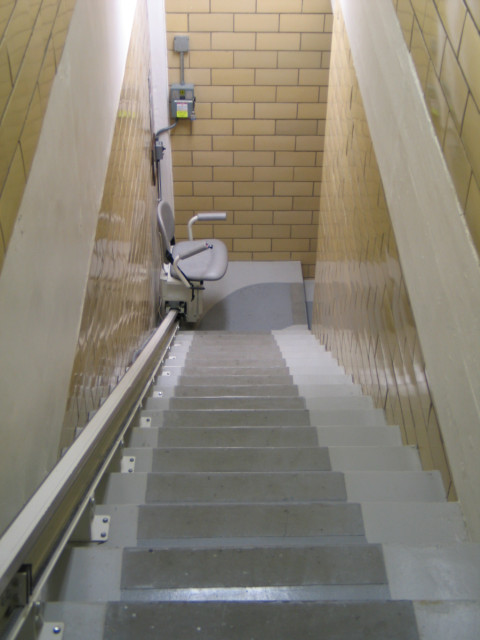 Voice of America Museum, West Chester, Ohio, September 2004.
This reminded me of Ms. Deagle, the old lady that hated Christmas carollers, and was just generally mean. Gremlins rewired her stair-chair without her realizing it. When she went to dump a bucket of water onto carollers on her doorstep, she saw that it was really gremlins singing and tried to get away from them (good thing she didn't dump the water on them, or else the movie might have turned out a little different). She used her chair to get upstairs but it ended up launching her out of the house and head first into a pile of snow. Poor mean lady.
I've been really bad about updating every Saturday lately... I will get better about it. For whatever reason, when I get free time, the last thing I want to do is something productive.
-20:14, 17SEP2013-
---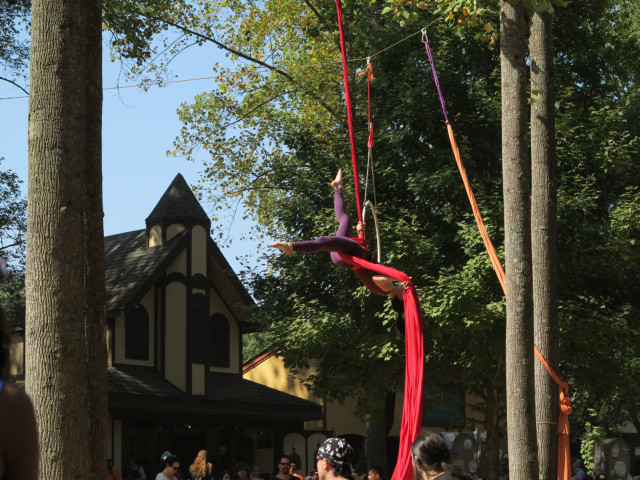 Maryland Renaissance Festival, Sunday (5 days ago).
I non-promised you a 2nd update this week, so here it is. An actual recent photo at that... We went to the Rennfest (as it's called) and I brought my camera (obviously) but there were so many people that there wasn't a reason to take pictures of anything unless I wanted to take pictures of people. Lots of the crowd dressed up, and many women took the opportunity to dress up in themed lingerie, so it wouldn't have been uninteresting photos, but I don't want to make strangers mad at me for taking a picture of them without their permission, much less post them on my website.
-22:02, 12SEP2013-
---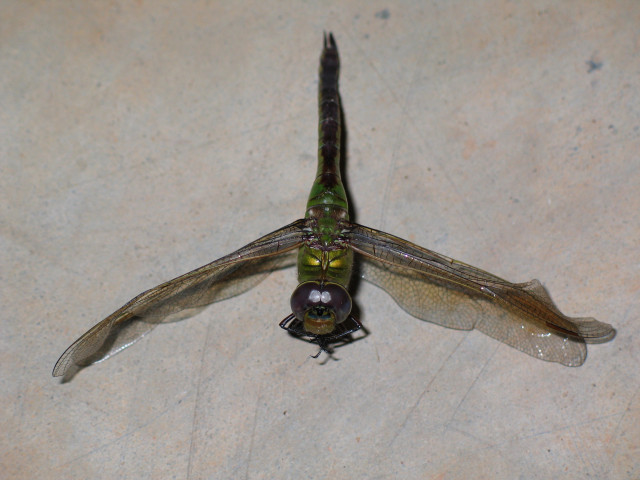 A dragonfly that died after running into our halogen lamp. Somewhere in Florida, September, 2004.
I took a lot of pictures of the above unfortunate creature, and only this one came out clear. As far as I can tell, this is the first image where I used the camera's (the camera being the Canon G5... for those not keeping up, I started 'photography' with a Kodak DX 3600, got the G5, then the G11, and shortly after that the Canon G1X.) macro mode successfully. I must not have used or had my tripod at this point, because I had to use flash to keep the shutter speed down. This is also one of the rare pictures where the flash actually adds detail instead of taking it away. Large versions of the week's image are usually sized down, mostly because if someone steals the image, they're only getting half of it. I don't care if this one is stolen, so I kept the original full resolution on the large image to prove detail. (...of my 5 MP camera heh. You'd be hard-pressed to find a phone these days that does less than 8 MP.)
There really aren't enough hours in the day... So I missed last week's update, making this lapse is the longest since I've started Photography Phaturday. I am behind by a week now, and I'll have to make it up by posting a 2nd image. I don't want to promise it will be this week, but it will be this week.
-20:41, 08SEP2013-
---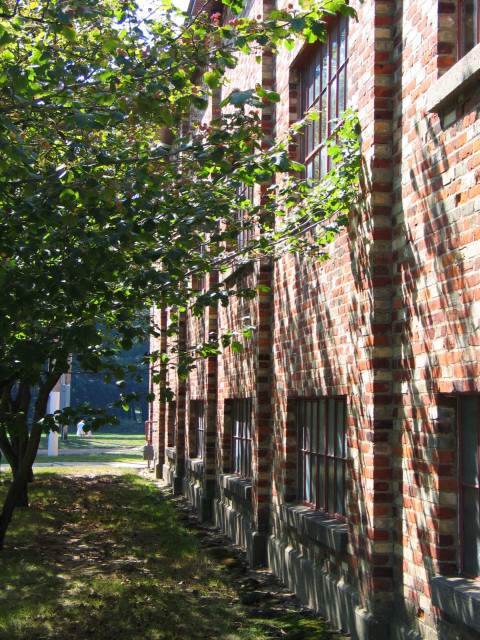 A brick gym wall with some trees next to it. Holland, MI, September, 2004.
Unlike last week's photo, where I knew what I needed to do but wasn't able to, I had no idea how to make my camera capture what this looked like with my own eyes. I tried different exposures, different shutter speeds, different zoom levels... The best I could get was this one, where the top of the image is too bright while the bottom of the image is too dark. HDR photo merging would be the first thing to fix it, but the problem with that, is it's impossible to do with greenery unless there's exactly zero breeze (leaves waving would appear blurry).
It's been a long time since I've talked about the current events going on...
Months ago, North Korea seemed poised to start a war (again). But then they went quiet (again). Syria is reported to have used chemical weapons on citizens in Damascus, but there's no concrete evidence. The UN gave Assad's regime a deadline to allow inspectors into the area, and he's ignored it. I guess if he'd just used traditional explosives to dismember and maim the Damascus citizens (as he has for the last... what... two years?), the UN would have stayed out of it. Egypt hasn't been the same since Mubarak stepped down... There seems to be constant unrest before, during, and after they democratically elected an iron-fist style leader who was then taken out of power by the military (a legal coup) after a year or so. So yeah, the middle east is still acting like the middle east. At least Israel and Iraq have taken a step down in the headline competition.
Domestically, I really don't know what's going on. Health care costs are continuing to unsustainably increase. The stock market is higher than it should be. Inflation is lower than it should be. Unemployment is embarrassingly high. Median incomes continue to climb downward across the nation... everywhere except the DC area. Republicans are dumbly trying to defund Obamacare (what is the cost to the government? It's virtually zero... the real costs come with private sector compliance, you idiots. Defund it, and the honest business owners lose.). It's going to be a disaster, and it's too late to avoid. If the voters don't educate themselves properly, then the voters get what they deserve (and since I happen to live in the same boat, I have no choice but to sink with everyone else). Republican activists don't help with educating voters, because they ignore the economic follies of Bush, and even support his efforts while decrying Obama for supporting the same thing (while Obama decries Republicans for not supporting the policies they actually support). Le sigh.
-20:22, 24AUG2013-
---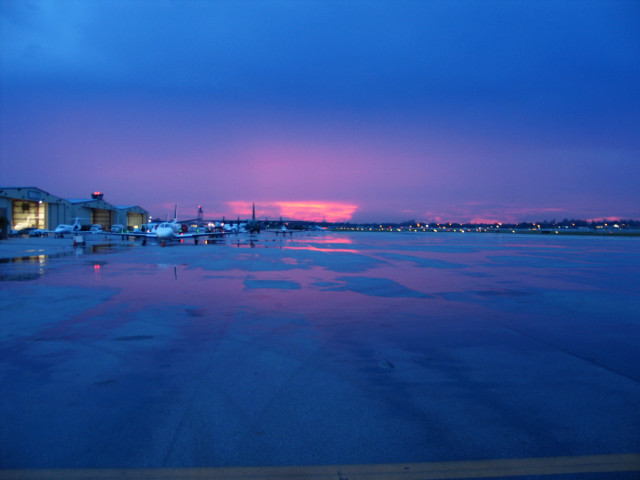 Another sunset, another Phaturday Phunday Update. Port St. Lucie, FL. September, 2004.
I'm not sure when I bought my mini-tripod, but this series of pictures was a main reason behind it. By now, I'd learned to place the camera on a stable surface, but in the case of here, there was no stable surface available. I had to take the picture by hand, and they all came out blurry. The one featured today is the least blurry of the set. If they made a good camera with its own integrated, retractable tripod, I'd buy it today.
-18:30, 18AUG2013-
---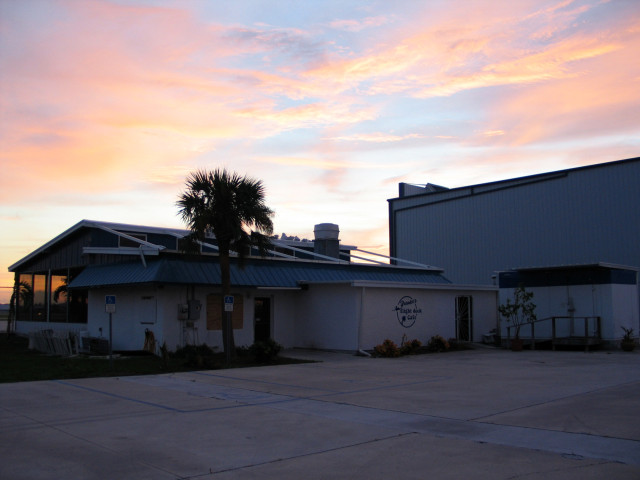 Another sunset, another Phaturday Update. Near Port St. Lucie, FL. September, 2004.
As you can see, the windows are boarded up for the Cafe. Turns out that when a hurricane is on its way, everybody in town jets. (Literally.) (I literally used "literally" correctly.)
If I knew about HDR photo merging back then, I probably would have taken three photos at different exposure levels from a tripod, but since I didn't, I chose to have clear vibrant sky over a clear, vibrant boarded up cafe. Good pic otherwise, if I don't say so myself. (And I do.)
-11:47, 11AUG2013-
---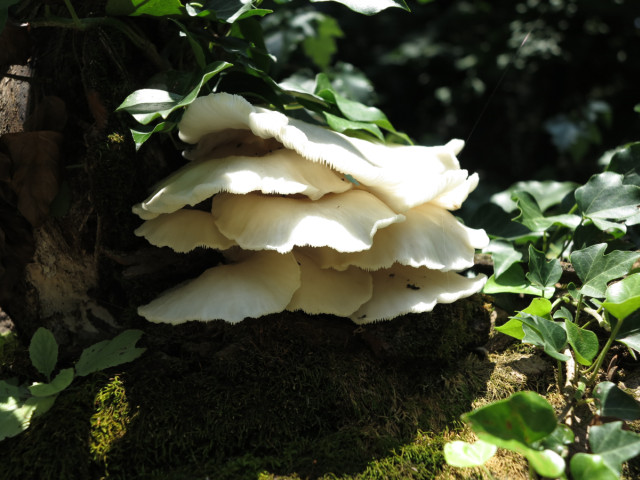 Williamsburg, VA - Monday last week (JUL 30th, 2013).
So I went to Williamsburg last week to attend a week-long company function and this is the best picture I was able to come up with. The lighting was perfect... the color contrast was perfect... This picture could easily be used in a textbook of fungi for young 'uns to gaze at nation-wide.
This update is two days late. I'm not making excuses, but we had good company over for the weekend, and I didn't force an opportunity to update the site during the visit. That's not to say that this update is worth waiting for, but hey... you get a (reasonably) current picture and it's not a bad one.
-22:16, 05AUG2013- (Cousin Stacey's B-Day)
---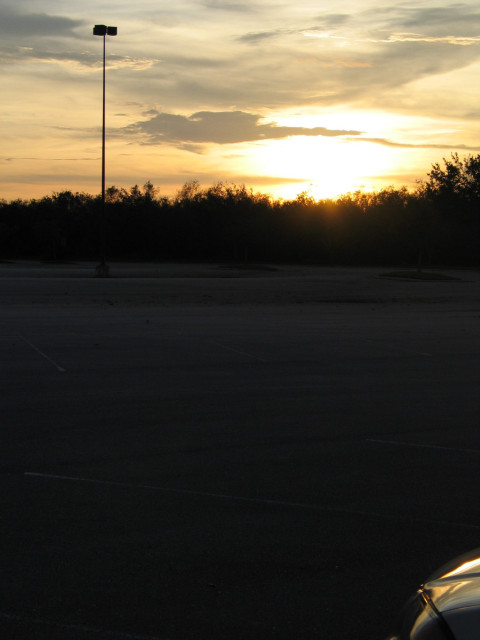 It's a sunset don't you know... somewhere in Florida, 2004.
Aspect-wise, this is a bad picture of a very nice looking sunset, and is the best of the series of pictures I took... More to come in later weeks/months/years. I have a lot of pictures to comb through before I'm 'caught up' to the point where I have to come up with a new picture each week. That day will probably never come.
-16:54, 27JUL2013-
---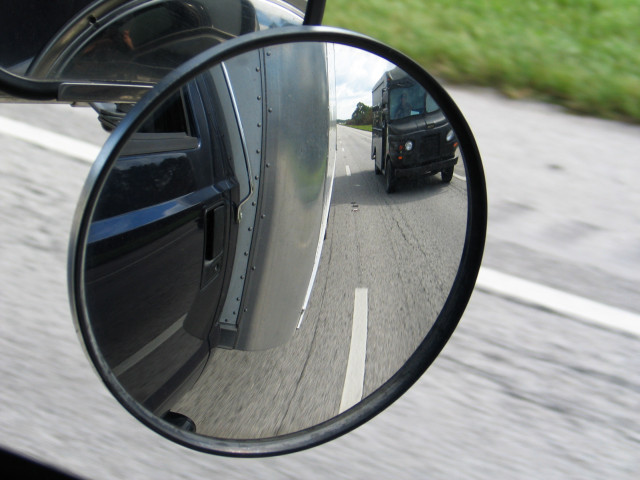 A UPS truck passing us on the right, somewhere in Florida, 2004.
This is another instance where I was just playing with my camera, and snapped a picture that came out artistic-looking. It's the final one in a series as the UPS truck crept closer and closer, until it finally passed us. The guy driving did not take the opportunity to move over to the right lane once it was clear.
Looking at the Sears website, they have a large selection of TV stands that most of which are exactly what we are looking for. So we went to the store today, found the stand we wanted, and looked around for a sales rep within the electronics section. No one was there to take our money. I walked over to the refrigerator/washer section, and found three guys standing there BSing, and asked if there was someone who could help us in the electronics section. A guy peeled from the group and I walked with him as he looked up and down the same aisles I just did... He joked, "It's our store policy to have customers hunt down someone for customer service." and wasn't shy in talking about how Sears was the worst place he's worked in how they don't have a customer service focus, and that the infrastructure of management seems to be geared to help as few people as possible. We finally found a sales rep as he was walking out of a break area (he looked a little dazed; I'll stick my neck out and say he looked high). As we walked through the store afterwards, there was no shortage of employees standing around, BSing with each other, while customers craned their heads in other areas of the store, looking for help. If most of their stores are like this one, it's no wonder these guys can't keep their heads above water. That said, we got a really good TV stand at a really good price. Let's hope I can put it together reasonably well.
-20:22, 20JUL2013-
---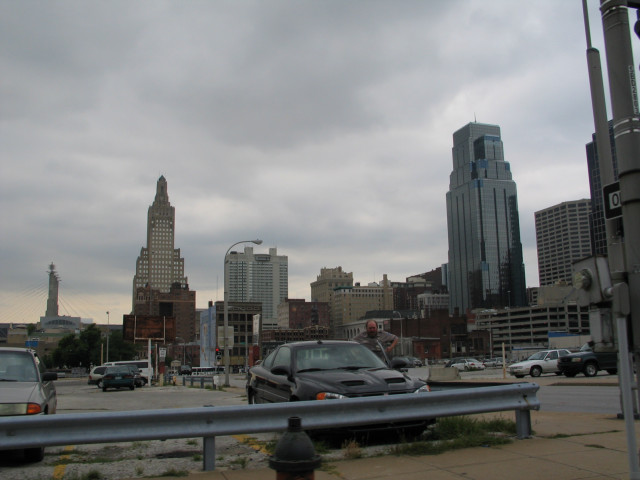 Kansas City skyline from inside the city. Picture taken August, 2004.
So, like a guy who likes to take pictures, I was leaning out of the back seat window gawking at things to take pictures of. I took this picture of the Kansas City skyline, but the guy getting into his car must have thought I was taking a picture of him. He was none too pleased, going by the expression on his face. I didn't see him until I reviewed the image much later.
Earlier this week, Dan, Nina, and Scout came up to visit. It was great to have them here, and it was great to see how much Scout has grown since I've last seen her. I was a little embarrassed at the lack of space for everyone, but they really didn't mind (or, at least they didn't seem to). Thinking about it, they go out of their way to sleep in tents because they enjoy it, so I guess maybe our apartment isn't as cramped as it could be.
-21:19, 14JUL2013-
---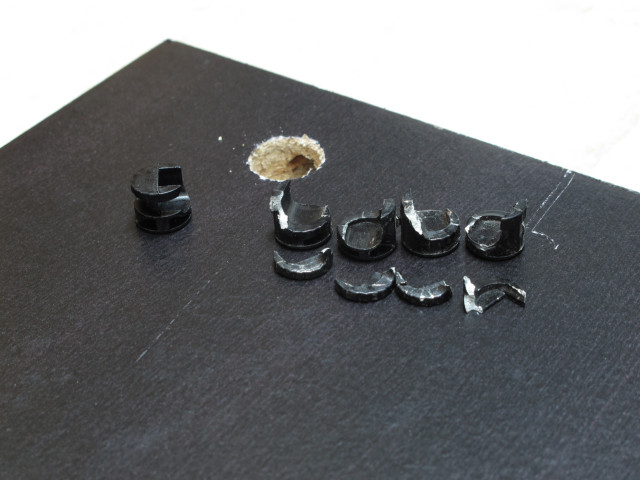 A failed attempt at putting a TV stand together, July 4th.
So we ordered a new you-put-it-together TV stand, and actually had it delivered because it was too heavy for me to carry up stairs. This sort of backfired, because our UPS guy apparently doesn't know how to use a dolly, and instead delivered it by hand to our apartment's home office... So anyway, I managed to bring it in pieces by pieces, and the next day started putting it together. As you can see from the picture, that didn't go so well. The cams' sharp edges were digging into the pressboard as I tried to rotate them, and eventually snapped the cams in half. I am not that strong... I bowl with a 13 lb ball... but somehow I managed to snap three of these things without even realizing it, and a fourth that caused me to test the integrity of my previous work, and finding that the boards I put together actually were not together.
So, for as much as I hate returning things, this is going to get returned. The UPS guy gets to deal with it going down stairs, at least. Knowing how things normally work out, he'll probably knock on the door and ask for help carrying it down (he's in our area after 5:30 PM every day, so I'm usually home by then). If this happens, I look forward to the opportunity to train this guy in how to use the dolly that I know is inside every UPS truck. In the meantime, they're supposed to be calling me to let me know when I can expect delivery. Yesterday, I happened to be outside when I saw the UPS guy run up the stairs and back down again, looking for a package. I asked him what apartment number he was looking for, and he didn't know. I asked him how big of a package he was expecting, and he didn't know. So he walked away empty handed and said someone would be back today. Maybe it had nothing to do with my return, but I doubt it.
-12:37, 06JUL2013-
---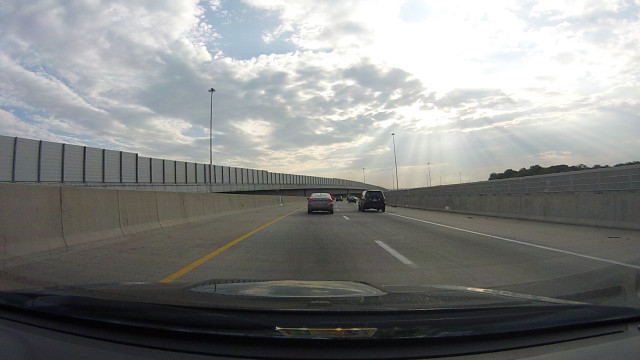 Friday morning, exiting Springfield Interchange, 7 hours before some massive rainstorms.
This picture is from my new dashcam. The remote has two buttons, an action and stop. If you press the action button while recording, it takes a live screenshot of what's being viewed. That makes it a little easier than getting home, watching the video, and using 3rd party software to make the capture while the video is playing. This way, the jpg is right there in the folder with everything else that the camera captured.
The weather later in the day was apocalyptic. Water was rushing into our work bay, the bottom of the garage door wasn't flush to the ground hard enough to keep it out. When I went out to my car after 45 minutes of waiting for a lull, I walked through water two feet deep, for about twenty steps. I probably could have gone around, but that meant another 2 minutes or so in the moderate rain... plus I'd already 'stepped in it' (get it?) without realizing how deep it was and my socks were soaked. I drove off, and exited the gate that I normally exit... A wall of cars sat there to greet me on a road that never had traffic. I turned around, went back into the gate that I came from, and parked in a parking lot. What was I getting myself into by trying to drive home? I drive a stick shift. I hate long commutes. Would it be better to wait it out, and then make the journey? Every minute that passed as I sat in the lot doubled my sense of urgency to get back onto the road. Traffic was only going to get worse, the longer I waited. So, after four minutes of sitting there I decided to try a different gate, further down the road. Somewhere in this portion of the trip, water on the road got to be about three feet deep... the deepest water I've ever driven through (the cars in front of me didn't do me or the people behind me any favors by going slow) (we had to drive on the center of the road, else the water may have been another foot deeper) (one car moved all the way over to avoid the water altogether, and was honked at by oncoming traffic). Once I saw the alternate gate, and that there was no line, I was dumbfounded. Getting onto the interstate after exiting the gate was a complete breeze. The traffic was far clearer than I've ever seen at this time of day, much less a Friday. Apparently whatever caused the wall of cars that I avoided was bad enough that it helped to clear up all traffic past that point, and my result was the quickest commute I've ever had, weighing in at 26 minutes (from the time I left the parking lot, the second time, of course).
-21:36, 29JUN2013-
---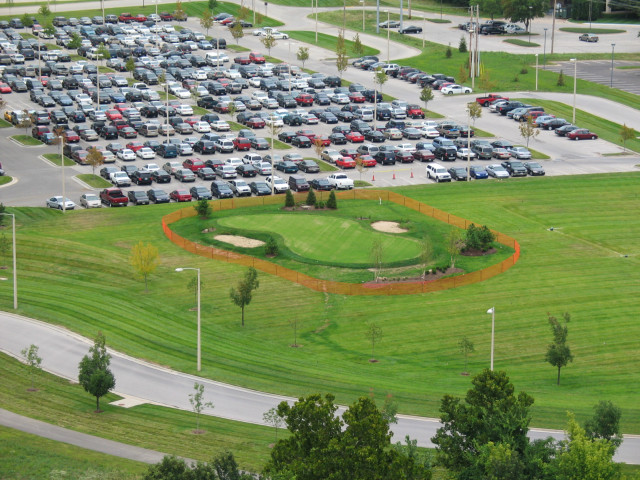 Overland Park, Kansas - August, 2004
I don't remember this picture, and I don't know why. It's kind of awesome. A putting green in the middle of nowhere... no walking paths to it... closed off for no apparent reason, next to a rather packed parking lot. This really is a unique capture, and I'm happy to have shared it with the world. You're welcome.
I've decided that it's best not to talk about my daughter on this main page. I am still going to 'journal' her developments from "bag o' human" form to "living on her own" form, but it will be in a far less public place. Send me an email and I'll let you know where you need to go to see updates on Peanut. If you don't know my email address, scroll down to the near bottom of this page. It's there somewhere.
-21:05, 22JUN2013-
---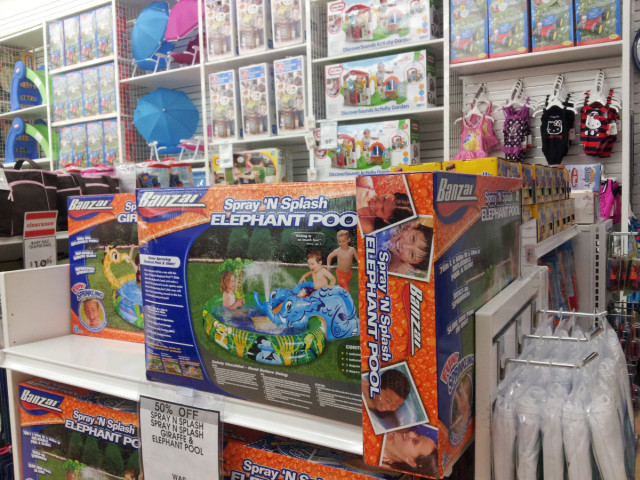 Picture taken in a baby store today with my Galaxy S II.
Maybe you'll see why I took the picture from this angle, maybe you won't. It is that mystery that makes a photograph art.
For Father's Day my wife got me a "Man Crate" to make me feel less emasculated. It was a small wooden box (inside of a cardboard box) that could only be pried open with the included pry bar. A card on top of the crate said "Having issues opening your crate? Please go to www.mancrates.com/help for help!"... Hopefully there are more self respecting males than are needed to justify a dedicated help page to prying open a wooden crate. That said, I was having issues, and my wife turned the computer on with the intent of going there, and the onus was on me to open it before she started reading it aloud. I won. Contained within were some personalized wooden coasters with bottle openers on them (genius), and personalized glasses with which to drink libation from. Additionally there were various snacks that I guess cater to men (I've always liked those snacks) included, and I'm halfway through them already (I opened the crate yesterday). Tomorrow, on real Father's Day, I'm getting about 5000 calories' worth of custom-cooked meals, I can sleep in as long as I want, and I won't have to change a single diaper (probably).
Every week for the last month or so, I would have bet money on Peanut being able to crawl by the next week. She took her first crawling "steps" just today, but only one knee, and another time, one hand. She didn't move forward either time, so she still isn't officially crawling yet. Maybe next week...
-16:40, 15JUN2013-
UPDATE: Spoke too soon. She crawled in very little "steps" for about three feet. Took her five minutes, but she did it without dropping her arms or legs. This kid is incredible.
-20:10, 15JUN2013-
---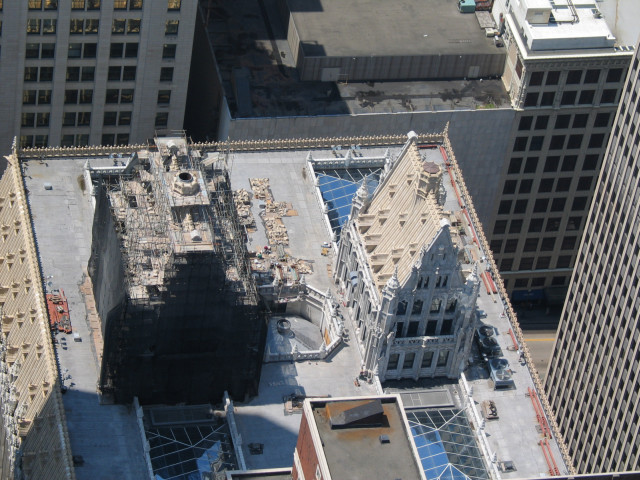 From the same roof top as last week's photo, taken July, 2004.
Here is a good example of the flaw of a non-DSLR's viewfinder. Zoomed all the way in, the viewfinder points at something slightly off angle than the camera does, and causes the photo to be less than perfect. This was back in the day when I thought using an LCD screen to take pictures was for grandmas, but to be fair, that was when LCD screens were not nearly as big, bright, and clear as they are today. Then, 99% of the photos I took was using the viewfinder. Today, 99% of the photos I take is using the LCD screen. I like the functionality the viewfinder provides (you save battery life by leaving your screen off, and if it's too bright outside to see your LCD, it makes a good back-up tool to line up your shot), but the fact that I (a big fan of viewfinders) so seldom use it puts truth to the reason why fewer and fewer high quality (non-DSLR of course) cameras are coming out that have viewfinders. P.S. I don't know what building this is. Looks like a church of some sort, but I do not have the time or inclination to find out for sure.
Peanut is doing the rock back-and-forth on her hands and knees, like a kid diving for the first time bouncing lightly on the diving board endlessly before making the jump, she never actually goes forward. She gets scared and straightens her legs out, so she's laying flat on the floor where she's comfortable. If you're holding her upright with her feet on the floor, she's content to stand for as long as you're willing to hold her up. She has little issue sitting; her head is so big though, that if she looks up, the weight of it pulls her backward and she'll straighten her legs out for balance, but her legs are not even close to being enough counterweight for that head.
Of baby food, she loves peas and squash, but not so much carrots. She loves watching us eat and appears to mimic our chewing. She's stopped touching her hands together and is instead using them to make noise on whatever surface she happens to be near enough to bash repeatedly. When touching us, she is as delicate as a butterfly... she'll absently glide two fingers, maybe her thumb in addition, on our face or on our arms. In contrast, if she's in the mood to pull hair (on my wife's head or on my forearms or chest) (she doesn't seem to be able to get a good grip on my head hair... probably too oily), she's not quite as delicate.
-21:50, 08JUN2013-
---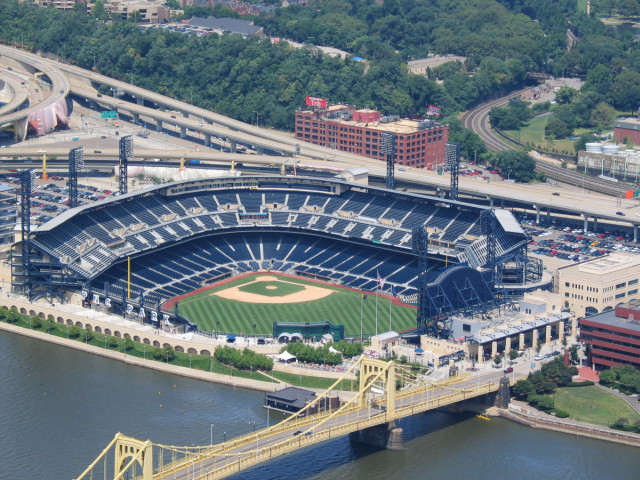 Pirate Stadium, taken July, 2004.
So this is the highest point that I've been able to take pictures from (other than a plane, of course). It was atop the U.S. Steel Tower in Pittsburgh, and the view was expectedly incredible. Looking through my collection, Photography Phaturday will be stuck in Pittsburgh for at least the next four updates, assuming I have no "current" pictures for the week. I have a number of weird memories from this area. It's the first time I ate at Boston Market. I bought Hypocrisy's Arrival here, and I did not like it. I tried to force my way in front of a semi in crawling traffic, and was advised against it by my passenger (the semi appeared to not want to give way to my turn in the "zipper", but I was prepared to push within inches of plastic touching metal). There was a fire alarm in our hotel, and I moved to evacuate. In front of me in the hall was a mother and her mid-teenaged son wandering around, and she audibly asked no one, "How do we get out of here?" (it was an old hotel, and the layout honestly didn't make a lot of sense). I looked up at a federally mandated exit sign, common for all public buildings... it pointed left. I pushed the bar-style handle loud enough for them to hear, saw them turn back to look at me, I pointed upwards toward the sign and went through the door. They didn't follow. I made it outside, met up with my coworkers, and the mother and her son finally joined the rest of the hotel patrons about five minutes later. There was no fire. Another memory is that we were crossing the street when we got the "Walk" signal, and a cab turning left damn near ran us over... we had to stop in our tracks as he partially drove into oncoming traffic to avoid us. I was holding about 20 meters of coiled coax cable at the time, and I swiped the cab with it as he drove within inches of our feet.
I had a certain arrogance that I've since lost. Sometimes I miss it, even if it did get me into trouble on occasion.
-22:40, 01JUN2013-
---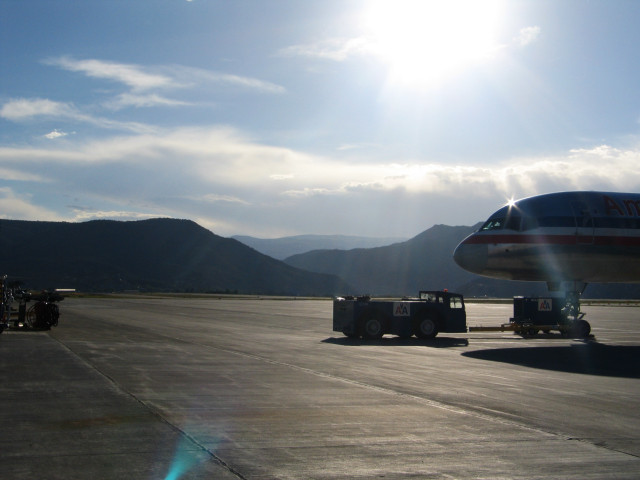 Runway in Colorado. I think Boulder, but maybe Denver. Taken June, 2004.
Happy Memorial Day! I didn't feel like updating Saturday or Sunday, so I'm two days late.
Yesterday was Peanut's six month birthday. To celebrate we fed her solids for the second time (rice cereal for babies) (the first time we tried at four months, but our pediatrician said it wasn't necessary because she's growing so much faster than average). She did pretty great, and actually seemed to enjoy it, leaning her head forward with her mouth open to get the next spoonful. Today, she was actually grabbing the spoon by its handle and guiding it into her mouth (and then not letting go of the spoon). I'm so amazed at everything she does on her own, figuring out the world, and instinctively manipulating her environment to meet her necessity (for another example, if she's on a blanket, and a toy is at the edge of the blanket, she will grab the blanket by its wrinkles and pull the object towards her) (she can't crawl yet). She's also started to give kisses... she'll put her hands on either side of your face and gently pull you towards her, then she places her slobbery open mouth on the side of your cheek or your chin (depends which way your head was turned when she decided she was going to give you a kiss), and pulls her head back. "They're the sweetest kisses." - My wife.
I finally received my Drift Ghost camera, took it on a test run and it locked up after the first recording. It locked up a second time on the second test run during the first recording (it saved 10 seconds of video, but would not respond to anything thereafter). The third time it locked up was when I first powered it on, planning my third test run. What's weird is I can't replicate the issue just by playing with the camera. It only seems to happen when I actually want to use it. My Kodak would lock up in a similar way if its memory card was improperly formatted, so I'm wondering if the new memory card I bought for the Ghost is defective. They say Sandisk is a good brand, but if the memory card is the cause for my problems, then this would be the third Sandisk card I've had issues with in my history of flash memory collecting. I'd actually boycotted the brand for years (using much cheaper memory cards that proved to be more reliable) until I saw this one on sale and grabbed it, because I knew I'd need it. If it's not the memory card, then it's the camera that's defective... which would suck.
-16:48, 27MAY2013-
---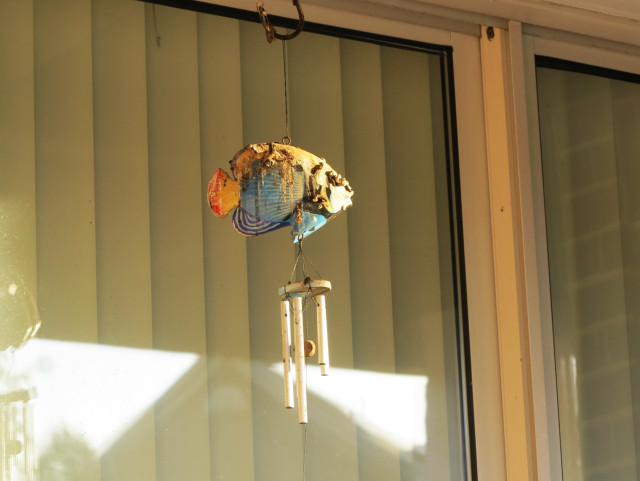 A friend's neighbor's windchime. Birds seem to like it.
The wifey spotted this one while we were walking around. We visited a coworker of mine who has a daughter the same age (plus two months) as ours, seeing if the two would become great friends. They were shy with each other, but perfectly cordial. It was actually pretty fun, but the difference between the two girls were very apparent. Ours likes to stay up late, while theirs likes to go to bed around eight. Ours isn't content when left alone and awake for more than two minutes, theirs is for more than an hour. Theirs has a full head of hair, ours has stuff that would barely qualify for peach fuzz. Anyway, back to my point, we were walking around their nicely cultivated neighborhood when the wife spotted this, and I had to get a picture of it. I like the lighting.
I never did get an answer from the action cam company about the video degradation when using a narrower FOV, so I ended up ordering the camera to see for myself. I looked on eBay for it, and it's mostly selling for close to its MSRP, so if it doesn't work out, I can recoup most of my money back. One feature that would make my life incredibly easy is its "tagging" feature, where it's not exactly recording, but when you hit the "action" button, it auto-saves the last (up to) five minutes of footage plus the next (up to) ten minutes of footage. I'm curious as to how reliable this is, and if it can be interrupted (I don't need subsequent footage to the traffic event I want to capture). I ordered it Tuesday, expecting it to arrive Friday (yesterday). That didn't happen. In fact, they didn't ship it in the first place (I know this, because I paid extra for UPS shipping rather than their free USPS shipping, and the tracking number associated with my order specified it was never scanned). After being ignored when I asked them my tech question, the delay in shipping compounded my frustration, only making me feel like more of an idiot for trusting them to do what companies typically do (that is, sell you their product). So I crafted a professional email generalizing my mostly horrible experience with the company from day one to that day. Three hours later, 7:25 PM, their time, my order was finally scanned in by UPS, and I received an email response saying as much. With their apology came an offer for a free accessory; I already ordered every accessory that I could possibly use when I ordered the camera. Luck's smile was shining on me I guess, because exactly yesterday the company sent out an email announcing the arrival of the much awaited waterproof case for the camera, the most expensive accessory for it weighing in at $50, so of course I picked that one. We'll see if I actually get it.
-20:19, 18MAY2013-
---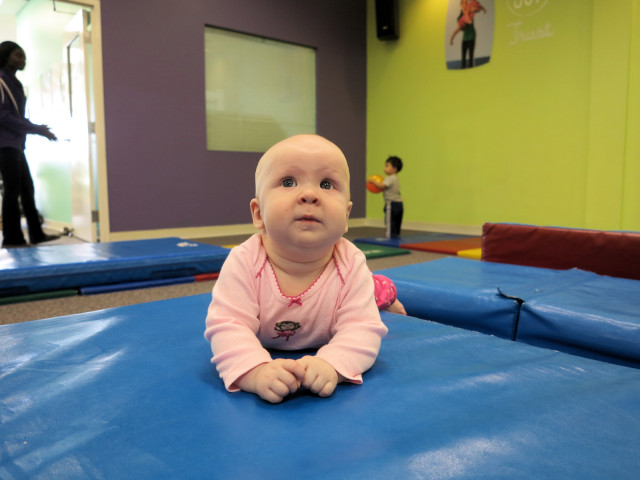 Peanut says, "Happy Mother's Day!"
Just kidding. She can't talk yet... but she can type! Actually, to make it apples to apples, she can talk, and she types about as good as she talks. I told her to type something to her mom for Mother's Day for the world to see, and this is what she says: " cZZZZZZZZZZZZZZZZZZZZZZZZZZZZZZZZZZZZZZ!ZZZZZZZZZZZZZZZZZZZza~q1 333333 Q BHHHHHHHHH,LPM q2aa ". At one point, she somehow managed to delete everything she'd typed (I guess she didn't like how it looked) and typed what you see here instead. I figured she was done typing when she managed to pick the keyboard up and manipulate it enough to put the corner of it in her mouth.
She has a new thing that she's discovered today, that she clamps her gums together and breathes hard through her nose, in and out. She looks like she's making a huge smile from the nose down, but from the nose up she looks like she's very angry. It's extremely cute, in a strange way... and she's doing it constantly. She managed to get us to imitate her with something that neither of us have done before, and she gets a kick out of it.
I gotta say we probably have the most perfect baby any parent could ask for. She is even tempered, has a great sense of humor, she eats with purpose, has slept through the night for many months in a row (though often requiring a meal between two and four in the morning, then back to sleep), her butt always gives us an audible alarm to let us know when she's pooped, and generally loves being a part of the world. When outside and the wind blows in her face, she gasps and smiles, and tries to taste the air with her eyes closed, as her wisps of light colored hair fly backwards (she has about ten strands that are long enough to actually be called hair). She wakes up in a really good mood (unless she's hungry) and greets us both with the biggest smile possible for a face so small when we come to pick her up.
For Mother's Day I went to Costco and bought us some crab legs. Then we went to the Mother's Day party at Little Gym (infants and toddlers only), where Peanut seemed anxious to play with the other kids, but her baby muscles weren't quite developed enough to run around like they were, but it wasn't for lack of trying. I swear she's going to be crawling very soon... she's getting significantly closer every week. After that, we went to the grocery store and picked up fresh corn, potatoes, and spinach, then came home and cooked a meal fit for a king (crab) (cannibal). All said and done, I can say that for an absolute fact that this is the best Mother's Day my wife has ever had. She's been doing everything right, and deserves more than I've given her today. I am grateful to have her as the mother to our child; I doubt anyone else would be more loving or selfless.
Earlier this week I picked up a new action cam (Contour+ 2) to use as a dash cam. It's the most expensive thing I've bought in over a year, weighing in at $400 (but in perspective, that's about 22% of our monthly rent. Yay, DC area). I used it for two days, and was impressed at the video quality it produced. Unfortunately, the camera was missing about a dozen other things that my current camera has, most importantly the ability to charge it while recording, and 2nd most importantly the ability to delete individual clips off of the camera, without hooking it up to a PC (or removing the memory card and putting that into a card reading device of some sort). The third disappointment was that the audio was actually worse than my current cam, while picking up the same 'plinking' sounds as the camera holds steady on the mount on a bumpy road. I can use less than one hand to count how many times I've returned something for a refund, and this camera took up one more finger. I really wanted to like it, but in the end, I knew I wasn't going to be happy with it and I would hate myself for spending so much money on something I didn't like (much like my iPod from 2006... but at least that has 60GB of storage, which is much more than MP3 players today have, and it can be used as an external hard drive). So, I'm still on the lookout for something better. I've already eliminated the Hero 3 Black for other issues... Next up on the list is the Drift HD Ghost, which looks like it would be perfect, if only I could get a technical answer from their staff from a question I asked over a month ago regarding the video degradation when using a narrower field of view, and a sample of nighttime footage.
-20:58, 12MAY2013-
---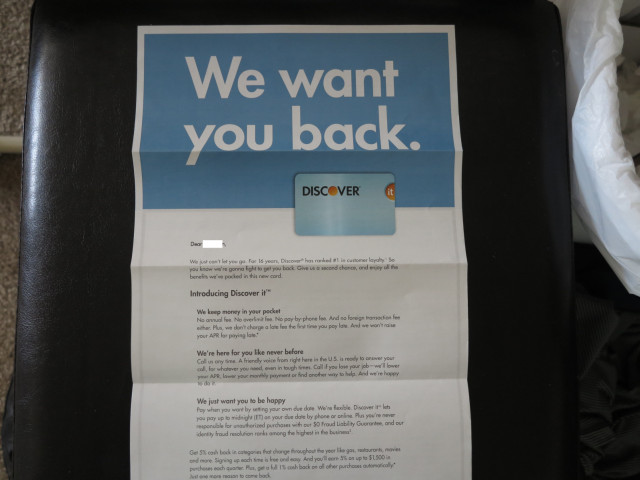 Got this in the mail, Monday.
About 12 years ago, I was getting two - three calls from telemarketers every day. At least one out of five of the calls was from Discover, offering me a credit card. I asked them a couple of times to stop calling me, but they persisted (I probably wasn't emphatic enough). Finally, I said "Sure, give me a credit card." in order to stop the calls. I got the card and never activated it. One call at least every two days from Discover turned into one call every six months asking if I wanted to activate it. I politely declined, saying that I'm saving it for an emergency (which was true, actually... I kept that card at my apartment and if my wallet ever got stolen, I had the backup waiting for me at home, and if someone stole it from my home, then they couldn't use it because I'd never activated it). They sent me new cards when the old ones expired. I called them to change my address each time I moved. Discover showed up on my credit report as a solid green rectangle, month after month after month, adding to my score. In January this year, I got a letter from them telling me that my account was deactivated. It very succinctly said that it was canceled due to inactivity, and it would never be reinstated. Had they given me an ultimatum to activate or cancel, I would have activated it. Very briefly I felt like I was caught doing something that I wasn't supposed to do. Less than three days later, I received a credit card offer in the mail... from Discover. Two weeks later, another one. A month later, another one. Another month later, same story. This month, I got this letter, and thought it was too ironic to not talk about publicly. They don't call because I don't have a landline any more. /End story.
Peanut is developing at an incredible rate, physically and socially. Just this week she has learned she can stomp in the bath water and create a splash, when held upright by her armpits. Her mixed look of wonder and concentration as she stomps makes me want to feel what it's like to be doing this for the first time. Getting her to giggle uncontrollably fills us with a joy that I don't think could be felt doing anything else. If she's laughing at something, she laughs three times harder if one of us is looking at her. With the stomping in the tub, I think that's helped her to understand better how to control her feet. Holding her so she can kick things (like the dangling animals above her swing) gets her incredibly excited, and she makes the best use out of every second she has a chance to kick that penguin in the face with both feet. She regularly rolls over with one attempt. She can lift her lower body completely off the ground by straightening her legs, and she can lift her entire torso off the ground by straightening her arms. It won't be long before she figures out how to be mobile with more control than one half of her body at a time, which causes her to move in circles.
-22:11, 04MAY2013-
---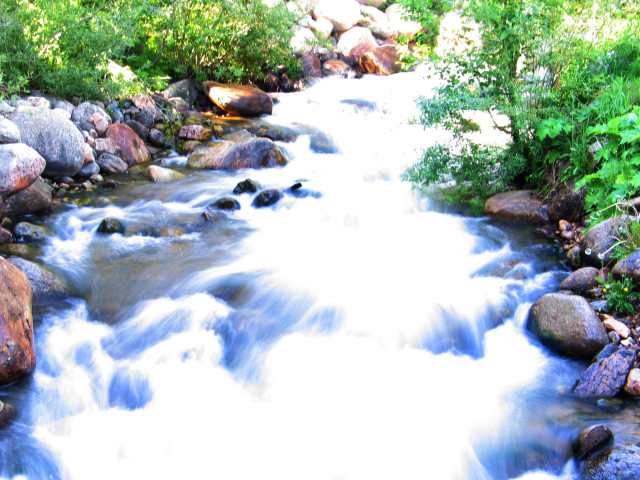 A stream in Beaver Creek, CO. Captured June, 2004.
This picture is an example of another learning experience of mine. My goal was to have the water look "cool", by using a longer than suggested shutter speed to capture it. Unfortunately, this caused my pictures to become super over-exposed; the result you see here is after a gamma reduction (the original). Much much later, I learned that my camera had what's called a neutral density filter (menu selectable), which is specifically meant to block all light equally, to allow for longer shutter speeds without reducing image fidelity. Too bad I didn't know about it here, eh?
-22:17, 27APR2013-
---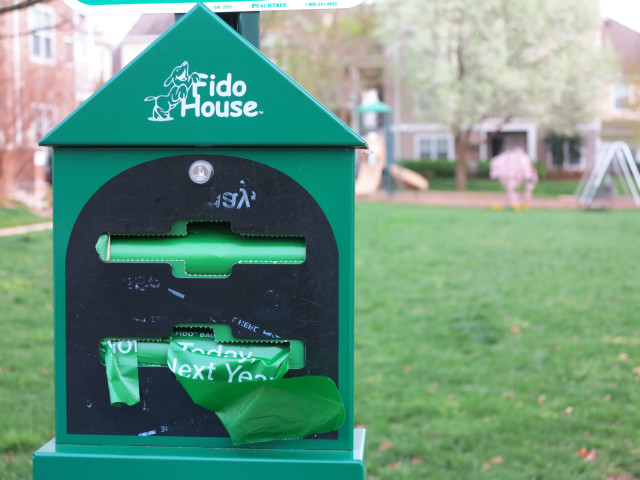 A poop bag dispenser, in our apartment complex. Photo taken Monday.
Monday we went on a walk with the stroller, and I brought my camera like I always do. I don't know why, but I took a picture of this to "show off" my camera's depth of field capabilities (meaning the blurriness in out of focus objects). I guess there is room to talk about the object... it's for dog owners to pick up their dog's droppings. Our last apartment had these too, but the tenants seemed to refuse to use them, and instead allowed their dogs to leave piles everywhere. The tenants at the new place seem to be pretty meticulous about it, and we're incredibly grateful for it (as is our carpet).
Wednesday night wasn't so fun. I was relaxing in the recliner/sofa, half napping, with Peanut sleeping on my chest. After an hour, she started coughing, with choking sounds... I sat her upright and she vomited everything in her stomach. She'd never vomited like that before, but it's typical for typical babies, so we cleaned her up and changed her clothes (and I changed my clothes). Not a half hour later, my wife had to throw up as well. Then my daughter threw up again. Then my wife. Then my daughter. Then my wife. Then my daughter. It was heartbreaking seeing her cry after gagging over and over again, not knowing what or why it was happening... We went to the ER and they looked over Peanut. They guessed it was a stomach bug, gave her some anti-nausea medicine, and she was nursing a half an hour later, and kept everything down. Around 2AM we were finally released. In our bed, Peanut fussed and cried until nearly seven o'clock. Finally I laid her on her back on the center of my pillow and she instantly fell asleep, with her arms slowly relaxing to her sides. We all slept until noon. I went into work on Friday, but then around lunch I started feeling nauseated. "No biggie. All mental.", I thought to myself. I took the rest of the day off, just in case. Long story short, between 3 PM Friday and 3 PM Saturday (hey, that's today), I slept about 16 hours, and ate nothing. Other than a fever (100.4), I had none of the effects of the bug that my wife and daughter had. Peanut is almost back to normal, but we're still being careful about how much to feed her. Her stomach is still jittery (she threw up once last night and once this afternoon), but she's otherwise been the best baby any parent could expect considering how miserable she feels. We've gone through two weeks worth of diapers and two loads of burp cloths. Despite it all, she's still calm and smiling. I can't wait until we can bounce her around, making her crack up and squeal like before.
-21:38, 20APR2013-
---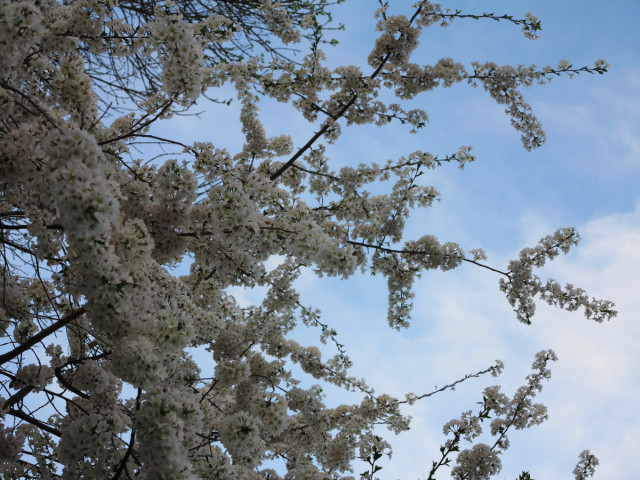 Spring finally decided to show up. Photo taken Wednesday.
We had our family photos taken today at JC Penny. The experience was pretty disappointing. The deal was that you get 32 pictures taken of you in various configurations, and then you pick a package that prints out 14, 16, or 18 sheets, narrowing your selection of printed pictures to about 8 or 9, depending on how many copies of X picture you'd want taking up more of your available sheets. Of course, you can buy more sheets a la carte if you so want. Our photographer seemed intent on taking bad pictures for half of the shots. Either that, or her reaction was very slow... With the camera pointed at her, Peanut would smile, look away, and start getting upset and *FLASH* there's 1/32 that we can't use. The price we paid was worth it in the end, but the whole thing seemed rushed and disorganized. Also there was a basket that Peanut was to sit in (with pillows) that was incredibly unstable. If she were to lift her head and drop it down, she would have tumbled off the pedestal... I held the basket down. If they continue to use that same thing, some unlucky kid is going to have very rich parents one day.
I posted a review for my Canon G1X on Canon's website. They rejected it because it didn't fit their "guidelines". After looking over their "guidelines" I failed to see where I violated anything in them. I posted a mostly positive, but critical review that was meant to help future shoppers. Overall I gave the camera 4/5 stars - the image results are incredible, but the ease of use is poor. Because I've been censored, I might draw up a review on here (and maybe even make it more critical). I've been wanting to talk about my G5, G11, and G1X and do a serious comparison between them. The G5 still has some options that I wish my newer cameras had...
-19:10, 13APR2013-
---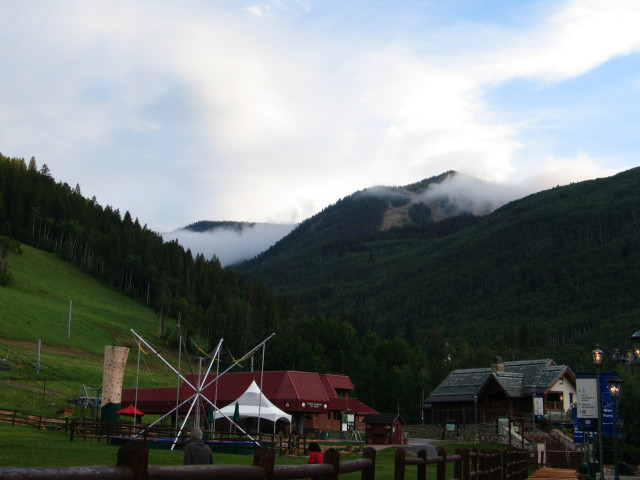 Beaver Creek, CO. June, 2004
So this was an interesting town... lots of wealth, out in the middle of nowhere. The winding road that led up to this "neighborhood" was extremely well made (by this I mean clear paint, no bumps except for the concrete seams), clean, and decorated. It's a resort for millionaires and people that win contests like Wheel of Fortune, and I got to go for free (to work). I only had a short time to take pictures, so I tried to take as many as I could, because everything about the town looked straight out of a movie. The grounds were meticulously cultivated, the decor expensive-looking, the landscape incredible, and the people were mostly beautiful (men and women; I don't discriminate).
Peanut is back to being friends with Tommy the Turtle again. Whatever he did to set her off, she's forgiven him enough to punch and swat at him repeatedly while laughing, as he hangs above her head in her Pack & Play.
I've been working on my next dashcam video for over three months. Before fatherhood, it took me about three weeks to make one, and that's without really focusing on it but for a couple of days. Now, I have about 1.5 hours of free time that I can spend on it during a weekday, and I use that time doing less brain-intensive things. So yeah, I expected it to take a while, but I had no idea it would be this long... and I'm only about 70% done.
-21:15, 06APR2013-
---

Peanut's ex best friend, looking lonely this morning.
We named him Tommy, but our daughter only knew him as the "eternally smiling green thing that would dance fast and stop suddenly, making me giggle uncontrollably". Today, he's barely worth looking at and pushing aside. She's interested in more complicated, better looking toys that actually talk back to her. More mature toys, if you will.
We had a blizzard earlier in the week and with it were all sorts of things to take pictures of... but the act of going outside right after getting home from work to take pictures seemed irresponsible while my wife needed just a little relief from her all-day-long babysitting job. Of course, there was the fact that it was very cold and windy outside, and I didn't want to go back out there. As a result, this is the first winter that I haven't posted any snow pics on this website, and that's because I took no pictures of the snow.
-20:35, 30MAR2013-
---
You know what? I've been thinking that it's pretty silly to put my time/date stamp at the end of my posts the way that I do. This is how I will post them from now on... I may even go back over older posts and consistent-tize it. What do you think? Oh, that's right, I haven't been adding comment links to my posts like I used to. I guess I'll never know what you think. I blame spambots.
-22:25; 25MAR2013-
---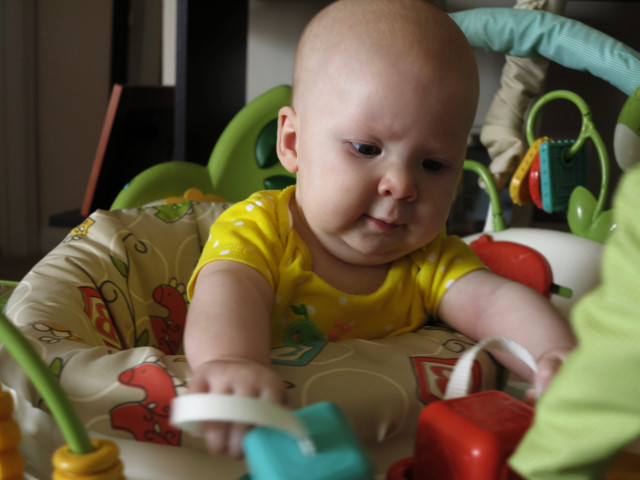 Peanut in her new bouncy-jump-sit-play-music thing, this morning.
She has such an intense look of concentration sometimes, and has a larger attention span than I do... there's no doubt she's going to be smarter than me by the time she's ten, if not sooner. For now, she'll focus on a mechanical toy, get close to it and get a better look to try and understand how it works, slowly, steadily pulling herself towards it (or it towards her) until finally... she can put her mouth on it. (Kind of meant to be a joke. Sure, she's the smartest baby in the world, but she's still a baby.) This morning, in her swing, she was humming incoherently. Somehow I figured out that she was humming to the music that it plays. Her tone and pitch would change from one song to the next... she wasn't mimicking the notes so much as she seemed to be supplementing what was playing. She's constantly curious about what's going on around her, and doesn't seem to be afraid of anything (which can be a very very good thing and a very very bad thing at the same time). She only cries when she's hungry or tired. Her favorite toy is a multi-colored plastic chain (she has more than one of these, but there is a specific one that she prefers). I think she's figured out that her friend in the bathroom mirror is actually herself. Between this update and the next update, she will turn four months old. According to the "What you can expect, month by month" book, she's passed all five month old milestones, and most of the "possible, but unlikely" milestones. One of the ones she hasn't passed is to object when you take a toy away, but I think her super-cool temperament prevents her from objecting more than her age/development ratio. -18:45, 23MAR2013
---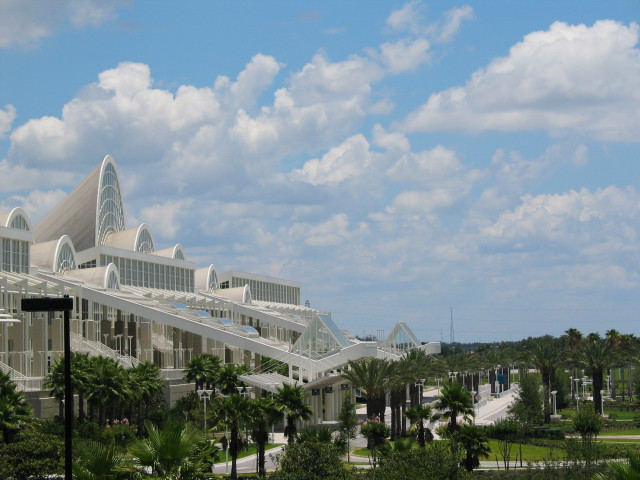 Convention center in Orlando, FL. Taken from the elevated walkway leading to it, May 2004.
It was during this trip that I took some of my best pictures for a long time running. I still use a picture of this convention center, during a sunset, after a rain as my desktop background. The "neighborhood" was very beautiful and meticulously cultivated back in 2004. I'm a little afraid to see what it looks like now, what with ten years of merciless sunlight beating down on the architecture, combined with the general convention center industry imploding on itself in 2008 and on. In this image, even though the lens was zoomed in all the way, the shutter speed my camera used was 1/1000th of a second at an ISO of 50. "What does that mean to me?", most people would ask. I'll tell you. It means it was damn bright out there. A typical outdoor photo at that ISO with that camera is 1/500th of a second, and that's with the lens unzoomed.
Yesterday we got a sitter and went out on a date for sushi. I had a new haircut that I used my lunch hour to get that day, so when the babysitter called saying that Peanut was inconsolable and wouldn't take a bottle, I was unable to calm her down enough to take the bottle when we came home early. She fussed and cried like I haven't seen her fuss and cry in months... She didn't recognize me. I think the last haircut I got was in December, so it was a pretty big difference in appearance for her to handle. This morning she was still acting with me like she does with strangers... sociable, but not "close" (not wanting to touch my face, or make eye contact for long, or laugh at the things she normally laughs at). I don't know what it was, but on the changing table she realized that I was her missing dad, and in the space of one second her personality did a 180. She waved at me, talking and laughing for nearly five minutes straight (with me egging her on, of course). I'm going to have to get haircuts more frequently, so I mostly look the same before/after, so I don't scare her like that again. -17:32, 16MAR2013
---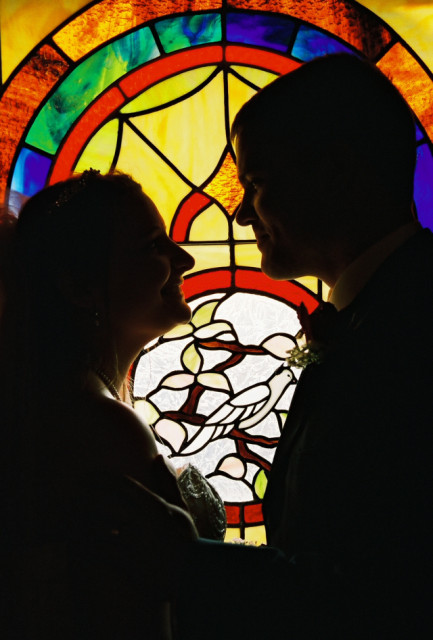 This photo obviously not taken by me, March 10, 2007
Well, obvious if you don't know who these people are. They are me and my wife on our wedding day. Twelve years we've been together, six now in marriage. We have a 3 month old infant, who has been the best baby in the world, but she still limits our ability to go and do things. So, for our sixth anniversary, I bought beef wellington from a local butcher (it's her favorite dish, but it's very expensive and hard to find a place that serves it), a bottle of champagne that I will be 'forced' to drink most of, and we'll be spending our anniversary at home. She bought some cake mix, so we'll also be having cake for dessert. We didn't exchange gifts or cards this time, so the least I could do for my loverly wife is talk about her on my website, which is something I've very rarely done.
So, thank you my dear, for sticking it out with me for six plus one years, away from your friends and family. Thank you for loving me for who I am, and for letting me be myself. Thank you for baking and birthing Peanut, who on her own has added a previously unimaginable layer to my life that feels surprisingly natural (so far). I owe you everything, yet you ask for nothing in return. Happy Anniversary, my wife. I love you!!! -14:47, 10MAR2013
---